Estimated
Est.
Read Time: 18 minutes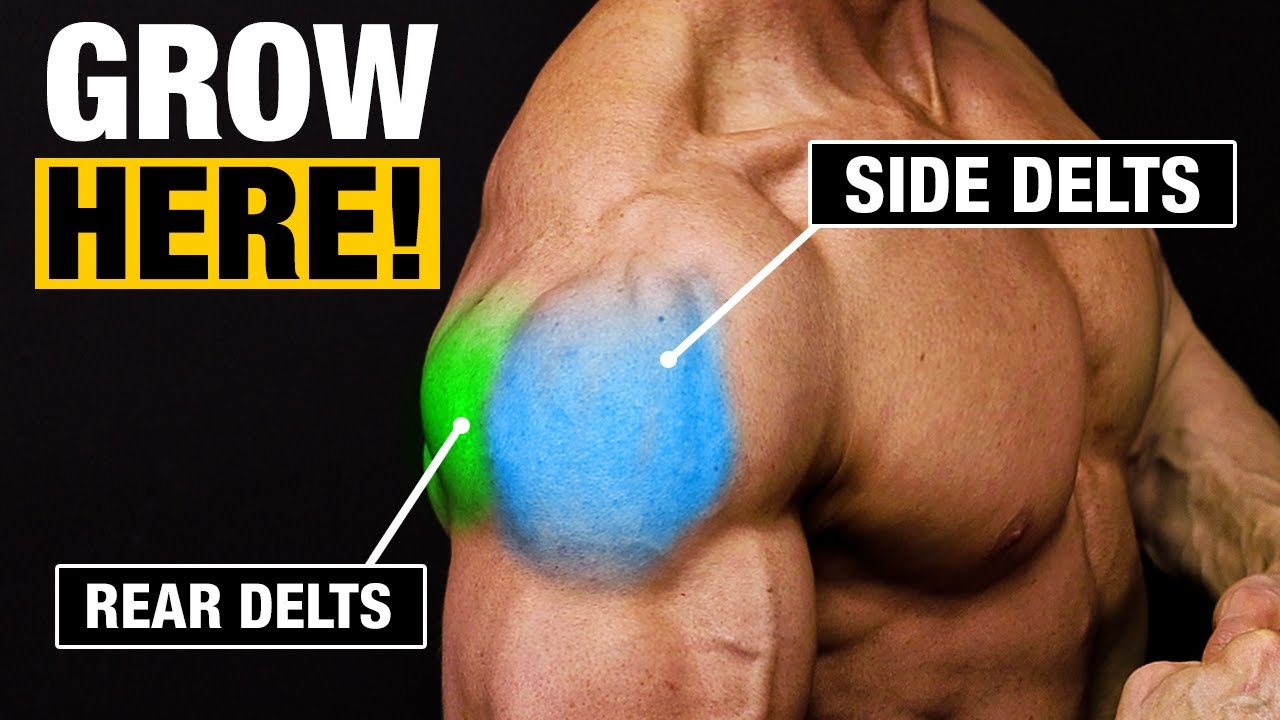 Having wide, muscular shoulders is a sign of strength and athleticism. Period.
They're the perfect complement to any physique along with an impressive set of legs and arms. They can help you to always look your best whether you're going on a date, giving a speech, or stepping on stage at bodybuilding competitions.
The key to getting wider shoulders is focusing on your side delts or lateral delts – the muscles located on the sides of your shoulders.
The key to getting wider shoulders is focusing on your side delts or lateral delts – the muscles located on the sides of your shoulders.
You might be saying to yourself, "Jeff, I get plenty of lateral delt training in. I'm fine with what I'm doing."
Not so fast. Who's to say that you're really doing the best exercises for your side delts?
In this article, I'll discuss the anatomy of your delts, how to get wider shoulders, and the best upper body strength training exercises to grow those shoulders.
I'll also provide you with the most common mistakes to avoid. Let's jump right in!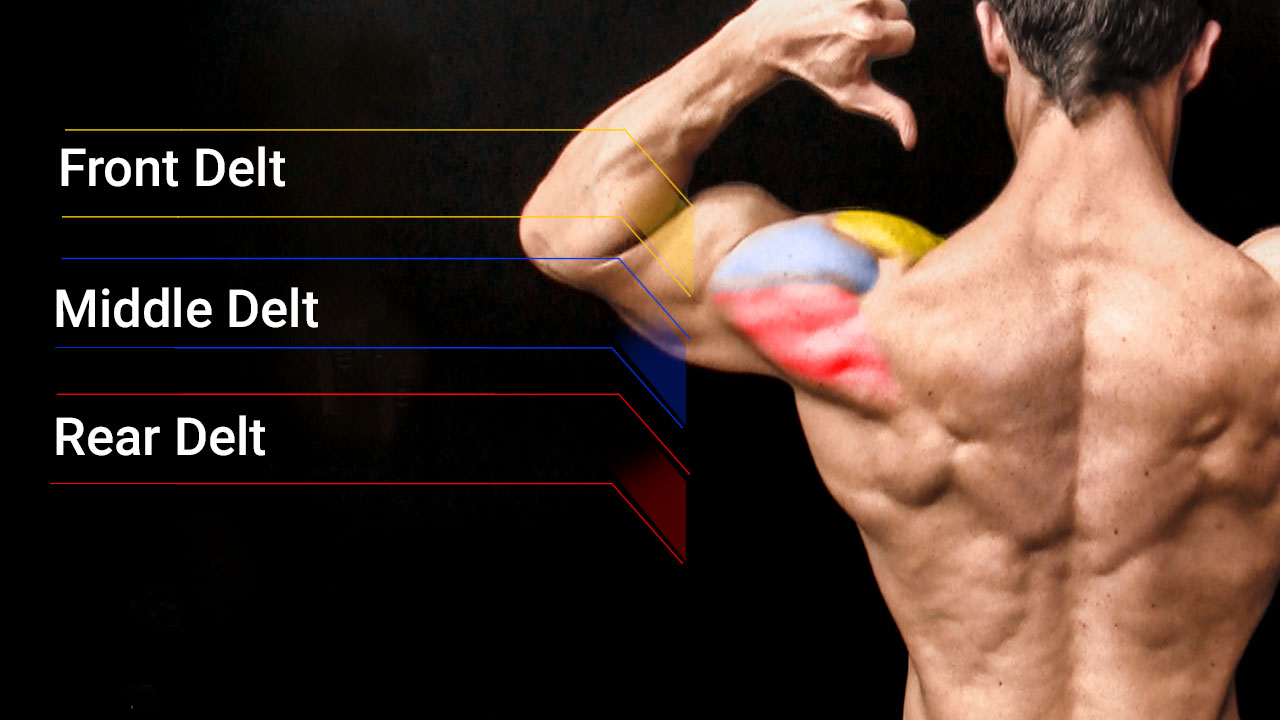 ANATOMY OF THE DELTS
Before I describe the best delt exercises and how to properly execute them, let's first cover the muscle anatomy of the delt muscles.
Why learn about the muscle when you could just learn how to do the exercise?
It's all about the mind-to-muscle connection.
Guys, I can't stress how critical it is to recognize and practice the mind-to-muscle connection. It's a concept that I emphasize in all my training content, and one that you should be practicing during every workout.
The mind-to-muscle connection is the process of learning how to feel and contract your muscles while you're lifting. It helps you engage with and control the muscle that's being targeted as you move through each rep.
By understanding how your deltoids work, you can establish a better mind-to-muscle connection and maximize your shoulder workouts.
The deltoid muscle is composed of three heads or sections:
Anterior deltoids
Lateral deltoids
Posterior deltoids
All three work together to help you with various movements and play a supportive role throughout the entire shoulder complex, especially during shoulder exercises. However, each head has its own individual purpose in helping you create a balanced shape and impressive upper body.
Let's start by focusing on the side delts.
LATERAL DELTS (SIDE DELTS)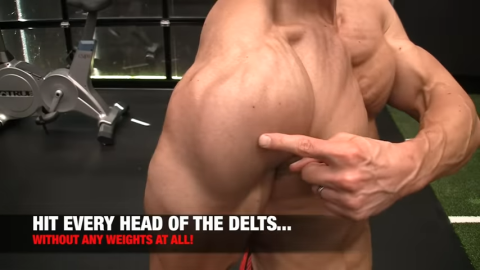 The side deltoid muscle, or lateral head of the deltoid, is responsible for basic abduction movements, which involve outward movement away from the body. It's also responsible for medial rotation or inward rotation of the shoulder joint.
Dubbed the middle deltoid, these muscle fibers are invaluable if you want to create that coveted broad shoulder silhouette.
The side delt will be our focus in this article, but to fully understand the big picture, you also need to know about the other two deltoid muscles. Spoiler alert: While we will be working the side delts in isolation, I will also be including exercises for the other delts and angles.
ANTERIOR DELTS (FRONT DELTS)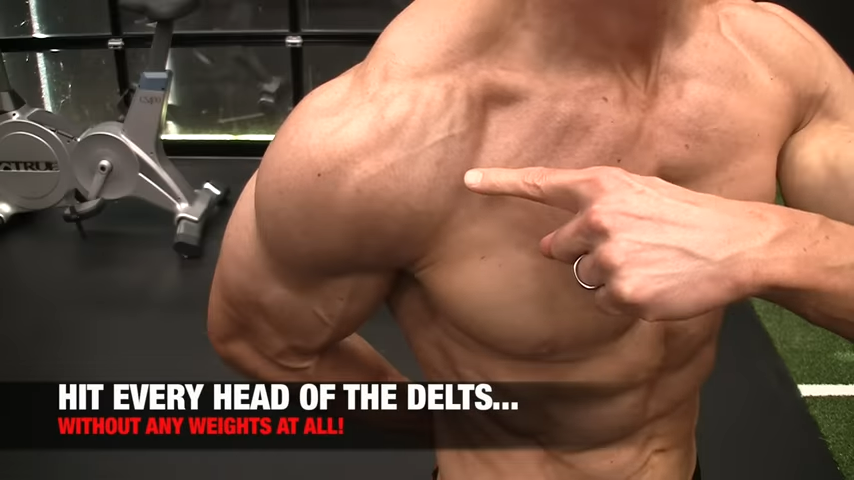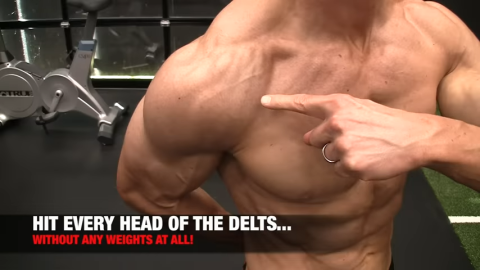 Next, we have the anterior deltoid muscle.
Your anterior delts are situated on the front part of your shoulders. The serve the following purposes:
Flexion of the shoulder joint (shoulder flexion)
Horizontal adduction (movement towards the body)
Medial rotation (inward rotation)
People tend to make the mistake of believing that their chest day workout is enough to target those front delts and create broad shoulders.
The truth is, you must put in extra effort if you wish for your dreams become a reality. Adding an entire shoulder day workout into your routine could be just what you need!
POSTERIOR DELTS (REAR DELTOID)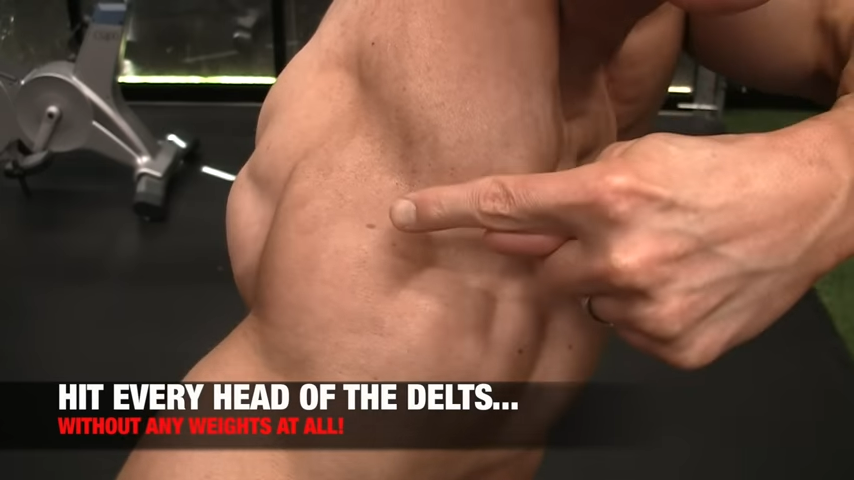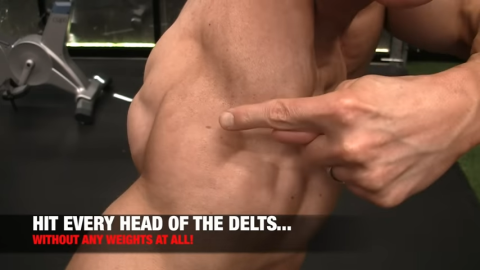 The posterior deltoids, more popularly known as the rear delts, are situated in the back of your shoulders. The rear deltoid muscle is responsible for shoulder extension and external rotation. What's the difference?
Move your arm upwards behind you to experience shoulder extension. If you want to see shoulder external rotation in action, rotate your arm outwards.
I talk about the rear delts a lot because they are essential for preventing injury. By strengthening your rear delts, you will take the strain and stress off your anterior or front delts.
HOW TO GET WIDER SHOULDERS
Before I jump into the specific exercises you should be doing for your side delts, I want to talk about the mechanics behind how to get wider shoulders.
Here are some foundational points on how to get wider shoulders that you'll use with the side delt exercises one or two times per week.
GO LIGHT
I want to revisit one of my favorite topics of the No Man's Land Mistake.
This is when people tend to focus on the right exercises, but they only stick to one very limited section of the weight rack.
For example, when it comes to your shoulders, you might already be doing the Dumbbell Military Press, Lateral Raise, Front Raise, and Rear Delt Raise.
If you are, I bet that you are sticking to the section of the weight rack where you'll find the dumbbells weighing between 15 pounds and 25 pounds.
No Man's Land refers to the other sides of the weight rack where you'll find the 5-pound dumbbells and the 50-pound dumbbells.
There are benefits to be had when you go down the end of the rack referred to as the light side.
When you lift lighter, you can actually get the delt to initiate the contraction, do more of the work, and generate more stimulation.
This is essential if your goal is upper body muscle mass and broader shoulders.
You'll be able to tap into that mind-to-muscle connection that I talked so much about above.
GO HEAVY CORRECTLY
When you're trying to grow bigger delts, heavy weights are likely going to be the enemy.
Heavy weights can be the enemy because going heavy invites the opportunity to substitute.
Substitution is one of the biggest problems when it comes to growing bigger delts because the delts, and the shoulders in particular, will ask for help from everywhere.
They'll ask for help form the low back to cheat a weight up.
They'll ask for help from the legs and from the hips.
They'll ask for help from your torso and trunk to lean away and up as you're trying to lift it.
We don't want that.
The truth is that you can go heavy and target the middle delts, but you must know how to do it correctly.
Back to the concept of No Man's Land: a lot of us never go down that other end of the rack where the heavy weights live.
Normally, this would be okay, but in this case, that's where you need to be if you're having a problem building the middle delts.
The thing is that you can't use just any exercise for the side delts, load it up with a 60-pound dumbbell, and try to get bigger delts.
You'll hurt yourself!
Instead, you want to focus on exercises that allow you to safely target the middle delt with heavy weight. And I provide you with just that below.
Hint: It's called the Abduction Row! More of how to do this shoulder exercise below.
FOCUS ON ABDUCTION
If you want to target the middle delt, you need to make sure that part of the shoulder is doing its main job: abducting the shoulder.
In other words, you need to engage in exercises that allow you to get the arm away from the body.
The nice thing is that you don't always have to rely on pushing movements to make that happen.
For example, you don't have to overdo it with Bench Presses, Overhead Presses, etc. You can try rowing movements in order to properly activate the medial deltoid.
DON'T FORGET THE OTHER ANGLES
The lateral delts will help you develop that shoulder width when looked at from the front here but what about the other angles?
What about when someone is looking at you from the side? You still want to be able to have that appearance of having wide shoulders.
In order to develop full depth to the width of your shoulders, you're going to want to focus on the front and the back. That means targeting the front delt and the rear delt every week of your workout program.
SIDE DELT EXERCISES: COMMON MISTAKES
Mistakes usually stem from your body substituting other muscles to get the job done, and it's these substitutions that are killing your gains.
Here are some of the most common mistakes to avoid when training with lateral deltoid exercises for wider shoulders.
EXTERNAL ROTATION
I see a lot of guys doing the following movement when they're in slightly bent over positions during the lateral raise.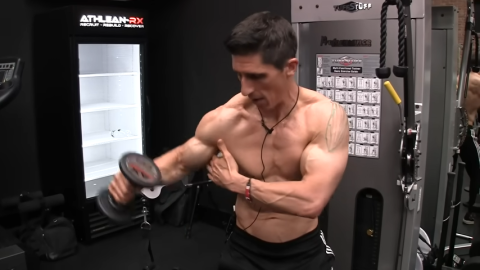 What's happening there?
There's some abduction happening, which is the role of the middle delt, and then it turns into external rotation at the top.
Not that external rotation is a bad thing, but when you're trying to direct all the force into the middle delt, you don't want external or internal rotation.
In fact, this mistake is particularly bad for anyone with shoulder impingement.
Instead, the focus should be totally on abducting the shoulder.
LEANING
The other thing that happens is that a lot of people get to about shoulder height, and they can't get any further.
So, what do they do?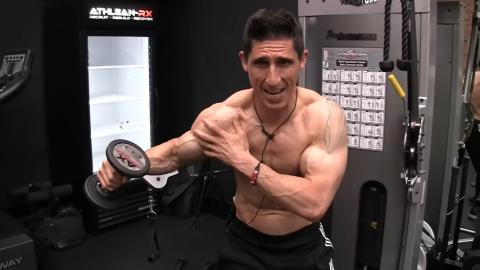 They lean in the opposite direction.
By leaning, I'm not even moving my arm into any more abduction.
I'm just leaning the torso and getting up higher. Even when you have that slight bend in the elbow, you're still not activating the muscle like you should.
Focus on correct form without the lean.
SHRUGGING
The biggest and most popular substitution that people make is involving the trap.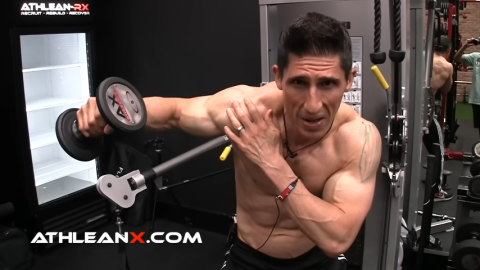 What happens is this: People get up to a certain height and they can't really go up anymore. They don't really have any more strength to get the dumbbell up.
This is especially true if your middle delts are far weaker than you think they are.
So, what people do is start to shrug it up.
Just by shrugging and involving the traps, you're bringing this dumbbell higher. In reality, you're compensating by artificially bringing that dumbbell higher.
Avoid these common mistakes so you can avoid shoulder pain and injury.
BEST SIDE DELT EXERCISES FOR WIDE SHOULDERS
What makes for an amazing exercise for wide and well-developed shoulders? As I mentioned above, the first thing you want to look for is abduction.
You also need variety.
Targeting the muscle at different angles can produce better results than sticking with one mediocre exercise.
Finally, you need a range of exercises that allow you to use both light weights and heavy weights. I don't want you to stick around in No Man's Land all the time.
With that said, let's kick off this list with one exercise that is best performed with a heavy dumbbell: the Abduction Row.
ABDUCTION ROW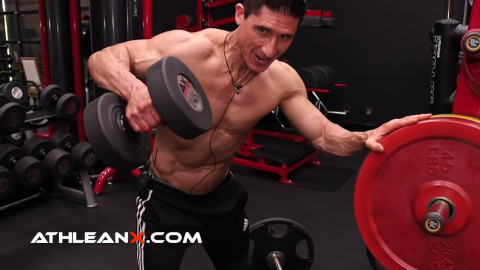 HOW TO DO IT:  Move your feet shoulder width apart. Grab a single dumbbell – one that is an appropriately heavy dumbbell – with an overhand grip, angle your body forward at about a 30-degree angle. You can lean on an incline bench to help with balance. Let the dumbbell hang down right in front of your thigh. Now, row AND abduct the weight at the same time. Row and abduct away from you. Stay within the six to eight rep range.
WHAT MAKES IT EFFECTIVE:  What you see is that middle delt is getting subjected to a much heavier load than you normally would. Your middle delt is capable of handling these because it's getting assistance from the rear delt. With that said, it's only involving a little bit of the back musculature, while minimizing contribution from the lats. The reason for this is because the arm is drifting away and it's not staying nice and tight to the side where the lats would tend to dominate.
SIDE DELT ACTIVATION DRILL

HOW TO DO IT:  This movement is a three-step exercise. First, bring your arm up and feel the delt tightening. With that contraction being felt there, you want to be able to extend that arm out without losing that contraction. Extend as far as you can and hold that. From here, go up another inch or two.
WHAT MAKES IT EFFECTIVE:  This hypertrophy-focused exercise makes you take your time and forces you to tap into that mind-to-muscle connection.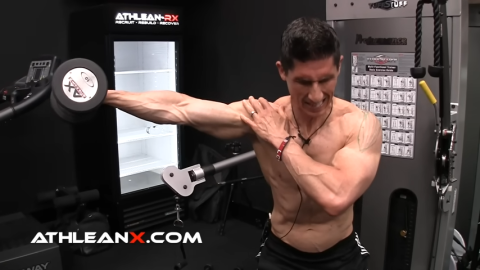 HOW TO DO IT:  The starting position has you leaning forward a little. As you raise the dumbbell to the side, get your thumb higher than your pinky. Extend your arm as straight as you can and do so in a slow and controlled manner. Once you reach the top, hold it for a second, and then go up another inch or so.
WHAT MAKES IT EFFECTIVE:   This is another hypertrophy-focused exercise that exaggerates the range of motion for the middle delt. This makes it a perfect movement for getting wider shoulders.
BEST FRONT DELT EXERCISES FOR WIDER SHOULDERS
As I mentioned above, guys, while your side delts are responsible for most of the width of your shoulders, this is only when someone is looking at you from the front.
If you aren't training your front delts and rear delts, then you won't have that three-dimensional width that looks aesthetically pleasing.
Training your front delts goes beyond compound exercises (e.g. push-ups). You also need to focus on isolation moves.
Here are some anterior deltoid exercises to get wider shoulders:
ACCOMMODATING FRONT DELT RAISE

HOW TO DO IT:  Grab a pair of dumbbells – something on the lighter side. The starting position has you sitting down and orienting your body so that you now have your arm back behind your body in extension. This means that there's a front delt stretch in place and as we initiate the movement, we get tension on the delt. Now, lift the weights up to shoulder level and as you get to the top, simply sit up. When you sit up, you can lift the weights another 20 degrees or so.
WHAT MAKES IT EFFECTIVE:  This exercise allows you to tap into both a pre-stretch, a position that ensures incredible stimulus throughout the entire range of motion, and a ton of time under tension. The result is huge gains in both shoulder strength and shoulder growth.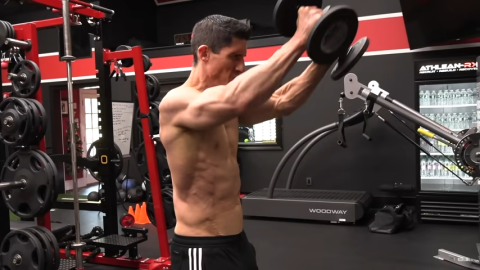 HOW TO DO IT:  For the Dumbbell Pressout, you want to focus on pressing the dumbbells out and lengthening your arms in front of your body.
WHAT MAKES IT EFFECTIVE:  Since the weight is getting further from your body, it's going to feel heavier. As a result, this means more stimulus on that front delt. One more thing that's great about this exercise is that it's safe for people who normally have issues with the shoulder joint during Overhead Presses can safely and effectively perform this exercise.
BEST REAR DELT EXERCISES FOR WIDE SHOULDERS
Just like with the front delts, if you want shoulder growth in a way that is well rounded, you'll need to target the back of the shoulders.
And this is when you need the best rear delt exercises. Here are my picks for rear delt exercises that will help your shoulders look wider.
REAR DELT ROW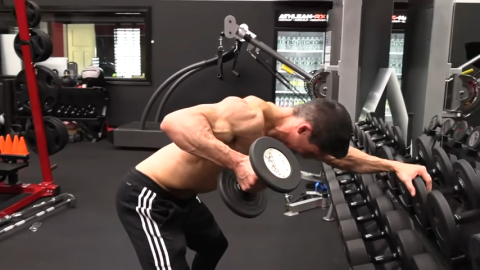 HOW TO DO IT:  The Rear Delt Row focuses on the extension of the arm behind the body, but you'll also notice some external rotation. As you pull the dumbbell up towards your shoulder, try to rotate your hand backwards at the same time almost like you're trying to point your thumb at somebody who's standing behind you.
WHAT MAKES IT EFFECTIVE:  The combination of the external rotation with the extension of the elbow back behind the body ensures you are directly targeting the rear delts.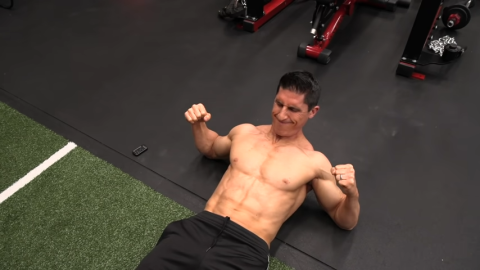 HOW TO DO IT:  The starting position is to lie on the ground. All you have to do here is dig your elbows in and push your body away. Focus on getting your chest elevated up and away from the ground.
WHAT MAKES IT EFFECTIVE:  This puts an intense contraction directly into the rear delts as this is the muscle group that is required in order to lift yourself up off the ground in this position. Very intense!
Guys, it's important to remember that when you're trying to get your shoulders to look as good as they possibly can, you have to make sure you look as good from every angle – Not just the front!
When you want to learn how to get wider shoulders, you need to also learn the best exercises for the lateral and rear delts. Incorporate the exercises above into your program for the next 6-8 weeks.
Are you lacking a workout program or are you unhappy with the one you're using? We can help! Check out our ATHLEAN-X programs to see which is the best fit for your goals and fitness level.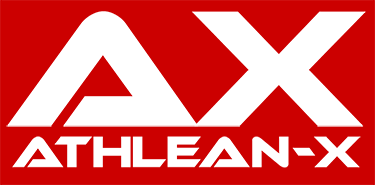 THE HIGHLIGHT REEL:
BEST SIDE DELT EXERCISES
The deltoid muscle is composed of three heads or sections: anterior deltoids (front shoulder muscle), lateral deltoids (side shoulder muscle), and posterior deltoids (back shoulder muscle).
To get wider shoulders, you need to target the middle delt and make sure it's doing its main job: abducting the shoulder.
Start by lifting light. When you use lighter weights, your delts can engage more effectively, do the majority of the work involved and provide higher stimulation.
When you're ready to take your workouts up a notch, don't just opt for any type of heavy weight side delt exercise. Instead, focus on exercises that let you safely and effectively target the middle delt with intense resistance such as the Abduction Row.
To achieve an impressive and balanced shoulder width, you'll want to target both the front delt and rear delt. Concentrating on both areas will ensure maximum development for a complete look.
Avoid external rotation, leaning, and shrugging when performing delt-focused exercises, especially the lateral deltoid muscle.
To target the middle delt, I would recommend the Abduction Row, Side Delt Activation Drill, and Extended Side Delt Raise.
Don't forget about the front and rear delts for a well-rounded shoulder muscle. To activate the front delts, I'd recommend the Accommodating Front Delt Raise and the Dumbbell Pressout.
For the rear delts, I'd recommend the Rear Delt Row and Bodyweight Back Widows.
Yes, Shoulder Presses do work the side delts. However, Lateral Raises are a more direct way of targeting that specific muscle group. Typically, when doing shoulder presses, you'll be engaging both your front and your side delts simultaneously.
Yes, Pike Push Ups are great for targeting the medial deltoid. This exercise involves raising your body in a plank position then extending your arms up to create an upside-down V-shape. This movement helps activate both your triceps and side delts.
For most people, it's generally not recommended to train the same muscle group every day, especially smaller, secondary muscle groups that are quick to fatigue.
Since medial deltoids are small and you target them indirectly through other exercises like the Dumbbell Military Press, there's no need to isolate them and target them more than twice per week.
The best way to grow side delts is by focusing on heavy compound exercises, such as Barbell Shoulder Presses and supplement your workouts with isolation exercises like lateral raises.
You should also use a common variation of the lateral raise to keep it interesting. For example, you can use Cable Laterals, which can be performed on a full cable machine or one with the pulley handles only. You can even try the Lateral Raise machine, if your gym has one.
It's important to focus on a full range of motion and remember to keep your form in check as you emphasize the eccentric (or lowering) phase of the lift.
You should also strive for progressive overload – consistently increasing the weights you're lifting once you've mastered a specific repetition range.
Finally, your diet is key to any muscle-building program! Make sure you're getting enough protein, complex carbs, and healthy fats to support your body's needs.
Watch the YouTube version of this article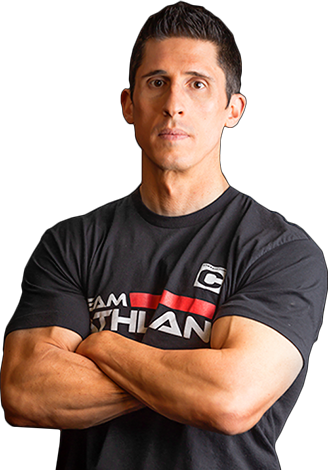 Jeff Cavaliere M.S.P.T, CSCS
Jeff Cavaliere is a Physical Therapist, Strength Coach and creator of the ATHLEAN-X Training Programs and ATHLEAN-Rx Supplements. He has a Masters in Physical Therapy (MSPT) and has worked as Head Physical Therapist for the New York Mets, as well as training many elite professional athletes in Major League Baseball, NFL, MMA and professional wrestling. His programs produce "next level" achievements in muscle size, strength and performance for professional athletes and anyone looking to build a muscular athletic physique.
Popular & Trending