Estimated Read Time: 1 minute
Here's a scenario for you. You want to build bigger biceps and you only have access to a few pairs of dumbbells. What do you do? Well, you do exactly what I show you in this new video!
I'm going to show you what to do whether you're training for hypertrophy, strength, power or are just plain short on time! No stone left unturned.
I had lots of exercise options here, but, I could only choose the best! Here they are.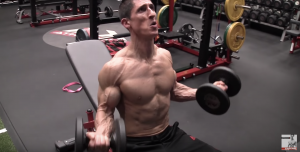 STAY STRONG…
JEFF
P.S.  I make it a point to always include the science behind the selections of why we do what we do.  It's what makes my programs work so well.  Ready to try one?  Find the one best suited to your goals here…
Click here to select the program best suited to you specifically
P.P.S.  If you find this video helpful, please do me a favor and share it with someone else you think would like to watch it. It's the best way you can show me you find what I'm doing valuable. I greatly appreciate it…
Watch the YouTube version of this article