Estimated
Est.
Read Time: 1 minute
As a professional strength coach, I've learned to never underestimate the power of OVERLOAD! It can be created using…Dumbbells Machines Barbells…OR Just your bodyweight!
AND Depending on how you load these, they can all be equally as hard! Wanna see what I mean? Watch this…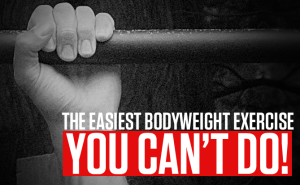 The fact of the matter is…No matter what equipment you have access to (or don't!) I can get the best out of you! Try this challenge to see what I mean…Can you last 150 seconds?!?
The challenge has been laid at your feet. What are you going to do next? I'm rooting for you. Now go beat me man!
STAY STRONG…
JEFF
P.S. Wish you had me to push you through each and every workout? Think you could get faster results? I know you could. Join me on TEAM ATHLEAN by getting the A-X program that fits you best (XERO if you have no equipment or AX-1 if you have the basics or a gym membership) and I'll get you in the best shape of your life…pushing you every step of the way!
No equipment? No problem – START HERE
Have the basic equipment at home or already train at a gym – START HERE
Watch the YouTube version of this article
Popular & Trending