Estimated
Est.
Read Time: 4 minutes
If you are looking for a workout to lose weight then this is the video for you. Most of the time, when people attempt to lose weight they focus on workouts and exercises that are either not intense enough to burn the calories needed or they ratchet up the intensity so much that they are unable to sustain the workout for long enough to get sufficient results. Not here. I'm going to show you how to do this step by step with an entire plan.
THE IMPORTANCE OF MUSCLE
The other element that most workouts to lose weight forget to include is resistance training. Not only is it crucial to seeing immediate results but it is critical to long term sustained success. The more muscle you are able to add to your frame the more metabolically active tissue you will have working in your favor to burn calories even at rest.
For that reason, each of the workouts in this plan is going to include a major push, pull, or legs exercise as the main resistance exercise performed in a 10 sets of 10 format.
Let's break down what the workouts look like in this perfect workout to lose weight plan.
THE PUSH WORKOUT
First up is the push workout. This is to be performed at the start of the week. Start with 10 sets of 10 reps of the barbell bench press, resting exactly one minute between sets. The key to the effectiveness of this portion of the workout is that it is metabolically demanding but is still sustainable for the duration of the workout. Remember, the key to losing fat is that you can get yourself in a hypocaloric state. If you burn calories but can't keep it up for long you won't wind up burning enough to make a difference.
The second half of the workout consists of a 10 to 20 minute pairing of two exercises; one performed as a second resistance training exercise and one of the more classic conditioning variety. Perform 40 seconds of KB/DB alt. clean and lunges in 1 minute and 30 seconds jump rope in 1 minute. Ideally, you will be able to get through the entire 20 minutes but if you have to start out slower you may do so.
THE LEG WORKOUT
The next workout day is a legs focused workout. This will consist of a barbell squat done for the same 10 sets of 10 reps. Remember to stay true to your 1 minute rests between sets to maintain the benefits promised. The secondary benefit of this type of training is that the heavier loads will help you to build muscle to further assist with your fat loss and weight loss long term.
Follow this up with a pairing of DB Push-Up Renegade Rows and High Effort Mountain Climbers for up to 20 minutes. Keep the effort level up so that you are performing as much work as possible while still being able to sustain the effort for the entire duration of the workout.
THE PULL WORKOUT
Next, the pull day consists of heavier barbell rows as the main driver of the workout. Follow this up with KB Clean and Presses alternated with KB Swings. This will all be able to be done in under 40 minutes. Every one of the workouts to lose weight are going to be capable of being performed quickly. As a matter of fact, you will burn more calories in a shorter period of time than had you walked on a treadmill for even longer than an hour.
THE CORE CIRCUIT
Finish up the workout with a core circuit on Saturday or Sunday. This is designed to be completed in 20 minutes – as many rounds as possible. The exercises are 3-Way Seated Knee Tucks, Squat Thrusts and Box Jumps. These are not easy but as you build up your tolerance to the increased work load you will find that you become better at the workouts.
---
For a complete step by step plan, be sure to head to https://athleanx.com via the link below and get the ATHLEAN-X Training System. Each one of these plans comes with a meal plan to further assist you in losing weight the right way. You must have a good nutrition plan if you want to not just lose weight but keep it off for the long run. See how much easier it can be when you have a sensible approach to eating that you can actually live with.
For more perfect workouts in this series including the perfect chest workout, perfect ab workout and perfect total body workout, be sure to subscribe to our channel here on youtube at the link below and don't forget to turn on your notifications so you never miss a new video when it's published.
Build Muscle in 90 Days – Core4
Subscribe to this channel here – https://bit.ly/2b0coMW
Watch the YouTube version of this article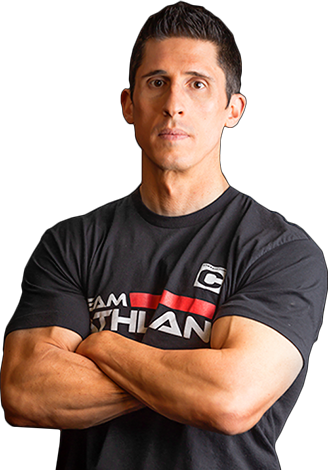 Jeff Cavaliere M.S.P.T, CSCS
Jeff Cavaliere is a Physical Therapist, Strength Coach and creator of the ATHLEAN-X Training Programs and ATHLEAN-Rx Supplements. He has a Masters in Physical Therapy (MSPT) and has worked as Head Physical Therapist for the New York Mets, as well as training many elite professional athletes in Major League Baseball, NFL, MMA and professional wrestling. His programs produce "next level" achievements in muscle size, strength and performance for professional athletes and anyone looking to build a muscular athletic physique.
Popular & Trending