Estimated
Est.
Read Time: 2 minutes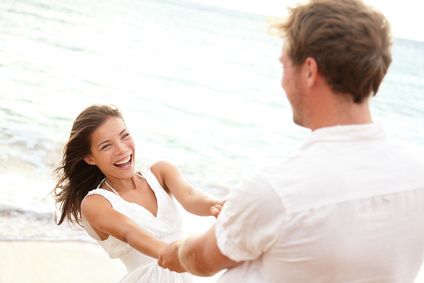 Sure it's Monday, but it is never to early to start planning a fun, exciting and healthy date day/night with that special someone
At some point in time or another, you may date a guy who seems to spend more time with his x-box controller and his but planted on the couch than he does off his butt. We've all dated one of these guys, right? If pulling him off the couch in an effort to do something active seems like a strength training exercise for yourself, you may have a bit of a problem on your hands!  Fairs, bowling alleys, cuddling on the couch or checking out a new restaurant all make great date ideas. However, there is just one problem: these dates are often fat-filled and sedentary. Whether you are dating someone new, have been dating for a while, are engaged or have already tied the knot, dating does not have increase your pant-size and decrease your health. Here are some dating ideas that are fun, but can help keep you and your partner healthy.
Eat in. Instead of checking out new restaurants or visiting old favorites, offer to cook for your significant other. Pick out a healthy meal, that both of you agree and work together to make the meal. If your significant other isn't much of a cook, invite them to help with small tasks (like chopping vegetables) or give them a cooking lesson in the process.
Look for low-calorie drink options. If your significant other enjoys spending time at the bar, look for lower calorie options. Instead of ordering a fish bowl, try a beverage with a calorie-free mixer like diet soda.
Take a hike. Go for a hike with your significant other. Once you reach the top or your favorite destination have a healthy picnic with plenty of fruits and vegetables.
Hold your own dance party. Put on some workout clothes and turn up the volume (careful if you have close neighbors). Pick some upbeat music you both enjoy and let loose! Spend a half an hour engaging in a dance party. You could burn close to 150 calories during your dance party.
Go for a swim. If the weather is warm, visit a local beach or swimming pool. You can cool down, have fun and exercise all at the same time. Don't hesitate to challenge your significant other to a diving contest or a race.
Sign-up for a class together. Take a self-defense or kickboxing class. Have fun, burn calories and potentially learn useful techniques in the event of an emergency.
Visit a zoo, aviary, museum or science center.  It may not seem like exercise, but you could burn up to 100 calories just walking around one of these locations.
Go for a jog. Go for a jog on the beach or through a trail. Running with a partner can help to keep you motivated.