Estimated
Est.
Read Time: 4 minutes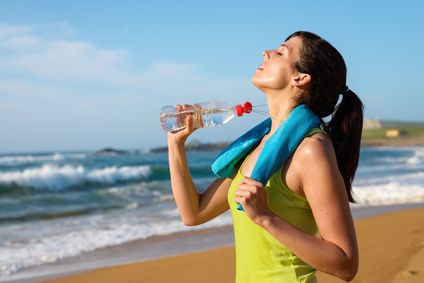 All winter you were likely sick of being stuck indoors. Even worse, stuck on what often seems like a treadmill or stationary bike workout that never ending. Staring at the walls and the winter storm coming your way on the gym TV was less than ideal. Now that summer is here and you aren't stuck in doors or stuck bundling up, one teeny, tiny little probably likely exists: the heat! Hot and humid days where the temperature seems over 80-degrees can feel extremely overwhelming if you are outside running, biking, hiking, walking or whatever activity it is that you enjoy outside. While we can't revert back to the comfortable weather that was early spring, there are some ways to beat the heat, get in a good workout and not feel overwhelmed.
Implement flexibility as part of your daily routine. There is no need to be glued to the Weather Channel or obsessively checking the weather application on your smartphone. You don't need to constantly be checking when the temperatures are going to be lowest. You'll eventually drive yourself crazy! As a general rule of thumb, the temperatures are usually lowest early morning or in the evening when the sun begins to set. Arrange your schedule so that you have time to workout during one of these cooler times of the day.
Look for sprinklers. This may sound child-ish, but it will pay off. In the early morning and sometimes evening, many of your neighbors may be doing their best to keep their lawn from looking fried-out. This means sprinklers! Don't hesitate to run through a neighbor's sprinkler real quick to cool yourself down.
Revamp your summer workout wardrobe. Invest in some moisture-wicking workout gear. Look for lightweight, breathable and wicking clothes. These items will help to pull moisture away from your skin. You'll actually feel cooler….we promise!  Another helpful piece of advice: wear a hat. Keeping the sun off your face and head can also make you feel much cooler.
Take an extra shower. Chances are you do not know too many people who shower before they workout. In fact, it probably seems a little odd that we are suggesting you take a shower before you go outside and get all hot and sweaty. Jump into a cold shower for a few minutes and rinse your hair with cold water. Through your hair into a bun or ponytail and keep it wet for your workout.  The cold water and your cool hair will help keep you more comfortable as you workout.
Be flexible with the type of workout you are doing. If it's too hot to go for your usual 5 mile run, try cutting your mileage down or opt for cooler cardio activities such as a bike ride or going for a swim. Trust us, your body will thank you!
Seek out shade. Look for cooler outdoor places to exercise. Visit a local trail or run along the beach (if you are lucky enough to live on the coast!). Without the sun, temperatures can feel at least 10 degrees cooler.
Don't be afraid of the rain. Believe it or not, the rain won't cause you to melt. Provided there isn't any thunder or lightening or the threat of a storm, head outside. Sprinkles or a light rain can feel great while you walk, run or bike.
Workout in sessions.  Split up your normal workout routine to make it more bearable in the summer heat. Consider completing half of your workout in the early morning and the other half as dusk approaches.
Keep a slow and steady pace. Never overdo it in hot and humid weather. Tone your intensity down a notch and do more intervals. Whether you are a seasoned athlete or a beginner to the workout scene, it is very important to remember that you can take breaks!
You don't have to workout outside. Even if you've been anxiously awaiting the warm weather so that you can workout outside, it's okay to take your workout indoors from time to time.  Hit the gym and take advantage of the AC. If you don't have a gym membership or have suspended yours for the summer, get creative and use what you've got. Complete a fitness DVD in your living room or look for free fitness video downloads on the internet. You can also opt to complete body weight exercises indoors. If you are looking to try something new, check out daily deal sites for specials on indoor classes .. such as yoga, kettlebell or bootcamp classes. This can be an inexpensive way to try something new and stay indoors!
Stay hydrated! Drink plenty of water all day long; not just during and after your workout. Drinking plenty of water all day can help prevent heat-related symptoms such as headaches, dizziness and stomach cramps.
What do you do to beat the summer heat and workout?