Estimated Read Time: 1 minute
What if I told you that I could show you a workout that:
1.  You could do in just 10 minutes.
2.  It was scalable to beginner, intermediate or advanced
3.  It will have you sweating like you worked out for 1 hour!
Would you be interested?
The best part about this workout for me is that it hits my major requirements for training like an athlete
It's simple (but not easy)
It's effective
It's based on science
Give this a try and I promise that you'll love the results! Share this one with a friend and do it together. No equipment needed. Do it anywhere. NO excuses!
I think you're going to want to add this to your workout repertoire, especially when you're short on time or on the road.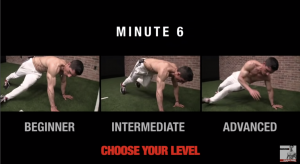 STAY STRONG…
JEFF
P.S.  Think you need to train long to get great results? It's actually the opposite.  You can either train long or you can train hard…but you can't do both!  All of my programs follow this principle.  Pick the one suited to your goals here
Pick the program of mine that best suits your goals here
P.P.S.  This video is so simple to follow.  That doesn't mean that it's easy!  It will prove to you however that you don't need to have access to lots of space, lots of equipment or lots of time to get a great workout in.  Give this a try and share it with a friend…
Watch the YouTube version of this article