Estimated
Est.
Read Time: 9 minutes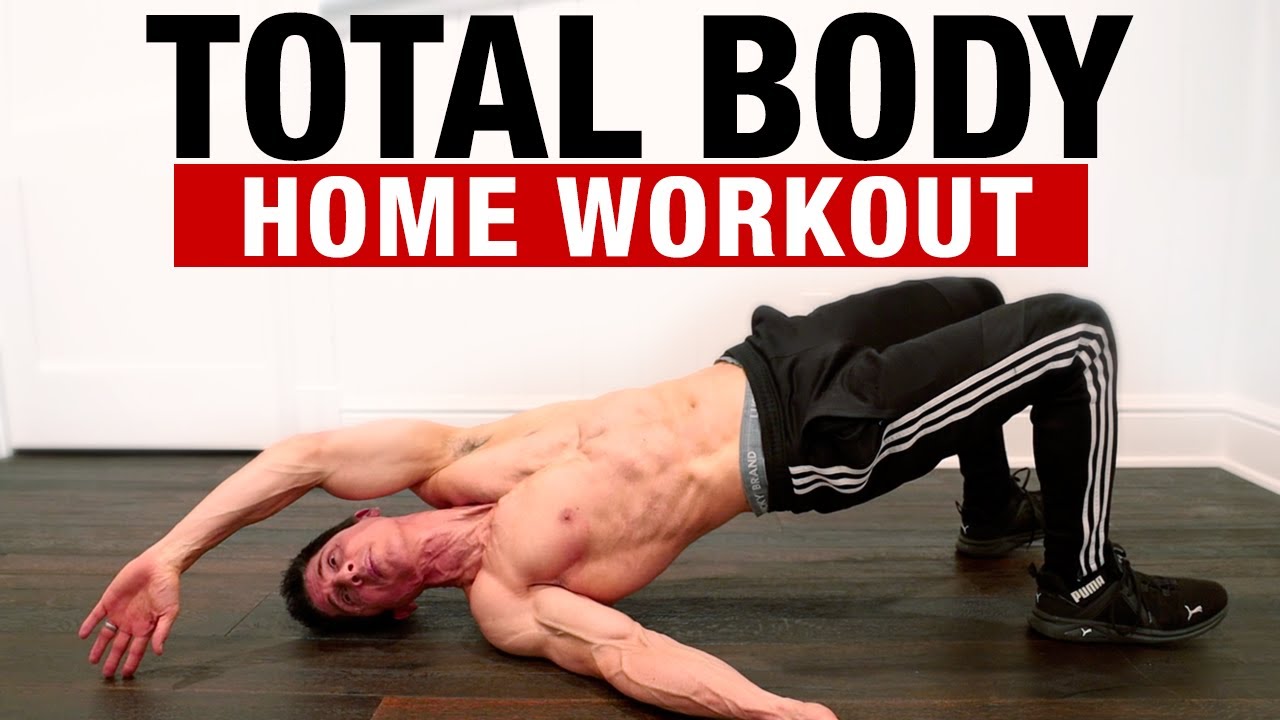 No gym, no weights, no time? No problem!!
I'm going to show you a full-body workout you can do anywhere, with no equipment in just 10 minutes. This routine will work for you regardless of your experience level, whether you're new to resistance training, intermediate, or advanced.
It works the entire body, hitting all the major muscles: chest, shoulders, legs, glutes, arms, and core.  You need no equipment. Zero. Not even a chair.  All you need is a little floor space. (You can use a mat if you want.)
The great thing about this bodyweight circuit workout is that anyone can perform this at-home full body workout. That means, beginners, intermediates and advanced can all benefit from these exercises.
The difference between the experience levels is the time that you'll perform each of the exercises, the rest times, and the number of times that you'll complete the circuit.
Let's take a look at how this bodyweight routine is structured.
10 MINUTE BODYWEIGHT ROUTINE
Your goal should be to get through this full-body workout at least two times.
This workout routine features both lower and upper body exercises, and combinations of both. It breaks down like this:
Beginners perform each exercise for 15 seconds and rest for 15 seconds before starting the next movement.
Intermediates exercise for 20 seconds and rest for 10.
Advanced guys, exercise for 25 seconds and rest for just five. No mercy for you guys.
This full-body workout includes 10 total exercises, hitting all the major muscle groups:
Minute 1: Ratchet Squats (legs)
Minute 2: Shoulder Tap Pike Pushups (shoulders and chest)
Minute 3: Power Ups (abs)
Minute 4: Pounding Trunk Lifts (triceps and back)
Minute 5: Bridge Reach Overs (glutes)
Minute 6: Tricep Toe Taps (triceps)
Minute 7: Angels and Devils (low back)
Minute 8: Pushup Toe Taps (chest and abs)
Minute 9: Squat Burpees (legs)
Minute 10: Standing Ab Twists (abs and obliques)
Completing all 10 of these exercises once takes five minutes. Do the circuit two times for a complete 10-minute full-body workout. One session for advanced guys will last 15 minutes because they do this full-body workout three times.
THE 10 MINUTE FULL BODY WORKOUT
This workout will hit your entire body: Chest, Arms, Legs, Glutes, and Core.
By the time you've completed all 10 exercises, you will have done a full-body workout.
This workout does a great job of hitting all the major muscles quickly without weights.
1) RATCHET SQUATS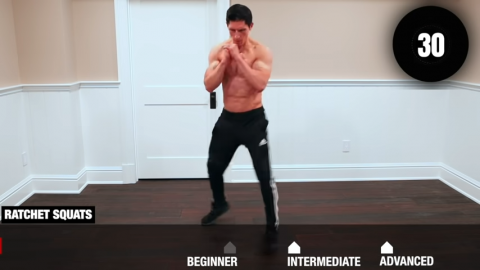 A Ratchet Squat gets its name from the quick twist to each side between reps.
Start with your feet shoulder width apart in a squat position with hands held in a prayer grip. Squat down with a hard eccentric squeeze in the quads and glutes. Keep feet flat.
At the top of each squat, rotate your hips in a 90-degree angle to one side and quickly back to the squat position. The sequence is squat, twist to the right, squat, twist to the left, and so forth.
Repeat to the other side. Right, then left, and so on. Land with feet flat on the floor each time.
2) SHOULDER TAP PIKE PUSHUPS

This exercise works the chest muscles, anterior delts, triceps, and core. This movement starts from a piked push-up position, with hips high.
Maintain a tight core as you lower yourself toward the floor. Aim with your forehead.
Push back up, then touch your right hand to your left shoulder then alternate, touching left hand to right shoulder before doing another pushup. Repeat.
Remember to keep knees locked, your shoulders level, and your core tight throughout the entire exercise.
3) POWER UPS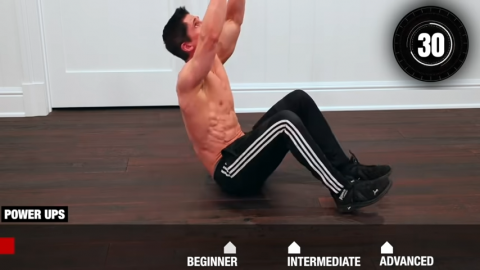 No home workout is complete without a traditional crunch or a sit-up.
Now, get into a supine position on the floor with a slight bend in the knee. Clasp your hands together into a prayer grip. Do a sit-up but instead of putting your hands to your head, drive them overhead, bending at the waist to rise to a seated position.
Lower yourself under control back to the starting position, squeezing your core as you go. Maintain that slight bend in the knee throughout.
4) POUNDING TRUNK LIFTS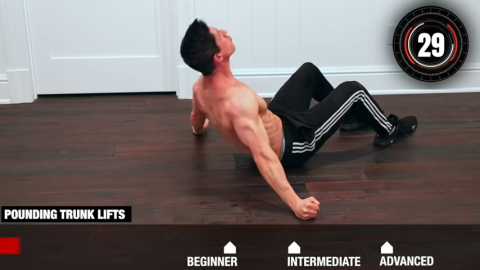 The Pounding Trunk Lift may look like a sit-up but it's a triceps and posterior shoulder exercise in disguise.
Stay on your back after Power Ups and move your arms to your sides with upper arms resting on the floor. Extend your arms toward the floor as if you were doing a triceps extension, and push with the heels of your hands to raise your upper body off the floor.
This should feel a lot like a triceps extension. You'll feel it in the backs of your upper arms.
5) BRIDGE REACH OVERS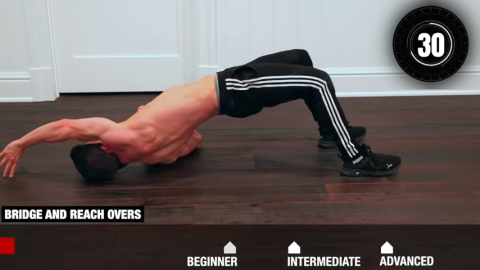 Let's shift focus now and work on the glute muscles.
From that same supine position, plant your feet shoulder width apart and get into a glute bridge position. Perform a glute bridge while twisting at the waist and reach over with one arm to touch the floor on the opposite side.
Relax the glute bridge then repeat that bridge-twist-reach movement with the opposite arm. It goes bridge-twist to the right, bridge-twist to the left, and so on.
6) TRICEPS TOE TAPS

Triceps Toe Taps activate the core, the hip flexors, and of course the triceps.
Starting position for this exercise is feet hip-width apart and arms shoulder width apart.
Hold your hips off the floor. Raise your right foot as high as you can and touch the toe with your left hand. Now alternate to the other side, raising the left foot and touching the toe with the right hand.
This works your internal and external obliques as you twist to the opposite side to touch your toe. You also get some nice isometric work on your triceps in the process, and of course the hip flexors and glute muscles get involved.
7) ANGELS AND DEVILS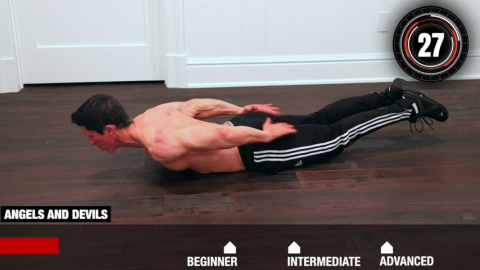 By the time you're finished with this exercise, you'll think I'm the Devil!
Lie in a prone position on the floor, facing forward, holding your feet and shoulders off the floor. Swing your straight arms in a wide arc up over your head, touch your fingertips, and then bring your arms back down behind you as far as you can. Try to touch your thumbs together behind your back before bringing your arms overhead again.
Repeat this motion keeping your shoulders and feet elevated.
8) PUSH-UP TOE TAPS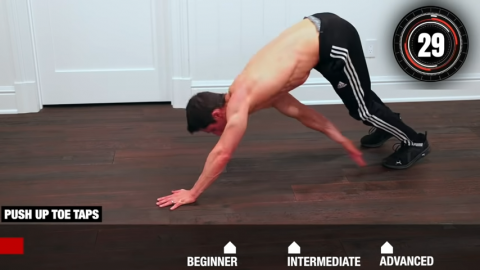 Push-up toe taps work your shoulders and your core.
Start from a push-up position. Do a strict push-up maintaining that strict plank position, but instead, at the top, bend at the waist into a pike and reach under your body and touch the contralateral side toe.
This works the upper chest, triceps, and core.
9) SQUAT BURPEES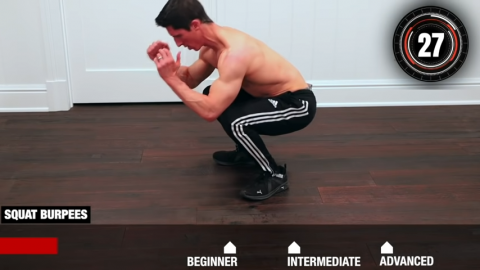 This is a modification of the traditional floor burpee movement, only without a jump.
Stay in a push-up position keeping your body stable but move your feet out slightly wider than hip-width.
Explode up with your chest and arms, swing your legs up underneath yourself into a squat position, and land with feet flat on the floor.
Hold that squat position tightly for a second, squeeze your glutes, then drop back down into that push-up position again before repeating the movement. It doesn't need to be a deep squat.
You'll notice that this works your legs, chest, triceps, and your core.
Maintain that strict pike position at the bottom as you fatigue. Don't let your mid-section sag and focus on keeping those glutes engaged as you jump into that squat position.
10) STANDING AB TWISTS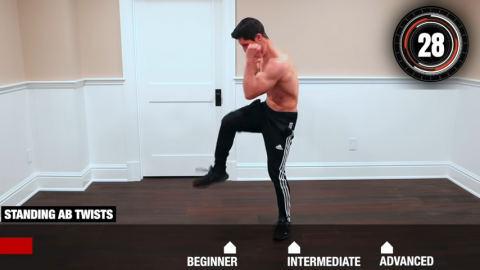 How many times can you touch elbow to knee from a standing position? You're about to find out.
Stand with your feet a little wider than shoulder width with arms raised, like you're about to punch a heavy bag. Draw your belly button in tightly toward your spine (i.e., bracing).
Raise your left knee toward midline while simultaneously bringing the right elbow down to meet it. Repeat by raising the right knee and left elbow, alternating elbows and knees. Twist in the middle to accomplish this movement.
Work hard to touch your knee to elbow each and every rep for a full range of motion, keeping your entire core braced and tight the entire time. This one will really test your core strength.
This 10-minute bodyweight workout is challenging for anyone, even for me. Once you try it, you'll see that you don't need weights to get a strenuous workout for your entire body.
The continuous work required here will increase your endurance and strength density. This is a terrific routine if your training goal is to lean out. Or, get really creative and insert this in your off-day or off-season workout plan when you're taking a break from the heavy weights.
So, even if you train in a gym, you can add this challenging full-body bodyweight workout to your overall workout routine, especially when you're short on time or when other circumstances don't allow you to hit the weights.
If you're looking for a complete workout program that suits your fitness level and available equipment (or no equipment at all) check out our ATHLEAN-X programs!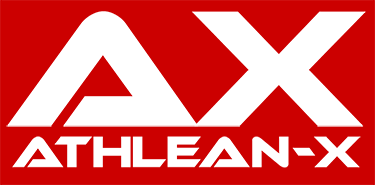 THE HIGHLIGHT REEL:
10 MINUTE FULL BODY HOME WORKOUT
You can get a quick, complete, full-body workout anywhere without any weights or other equipment with this 10-exercise routine. You don't even need a chair.Use a mat if you need to. Otherwise, absolutely no equipment is needed.
Whether you're a beginner, advanced, or somewhere in between, 10 minutes is all you need to work your legs, glutes, core, arms, shoulders, and chest muscles.
One entire round of the workout takes five minutes. Two rounds will take the full 10 minutes. Advanced would go for 15 minutes.
Beginners can stop after one round if needed. Intermediates go for two full rounds, and advanced guys can keep going for three rounds if possible. One 10-minute session allows two full circuits of this full-body workout. Rest times become shorter the more advanced you are.
You can progress the routine by increasing the intensity of an exercise by altering rep speed (speed reps, or slow eccentric-fast concentric), or by selecting a similar exercise that's more challenging to you.
Watch the YouTube version of this article
Popular & Trending