Estimated
Est.
Read Time: 1 minute
There's not much to say about this triceps workout other than…
1.  It uses just a pair of dumbbells
2.  It hits every part of your triceps
3.  It flat out works!
Oh I almost forgot to mention… You can do this whole workout in under 10 minutes at home or in the gym. Just be prepared for the pain!
You'll be cursing me out when you try it, but you'll be thanking me later! I included the full workout as well as the science behind why this works as well as it does. I think you're going to love it.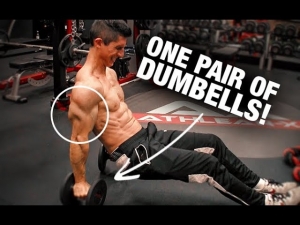 STAY STRONG…
JEFF
P.S.  This is just one example of how quick your workouts can be if you train your muscles with science. Want a complete day by day program to take your body to a whole new level of size and definition?
Click here to try my day by day workout program
P.P.S.  If you find this video helpful, please do me a favor and show it to someone you train with or think it could help. It's the best way you can tell me you like what I put out for you.  Appreciate it my friend!
Watch the YouTube version of this article
Popular & Trending