Estimated
Est.
Read Time: 9 minutes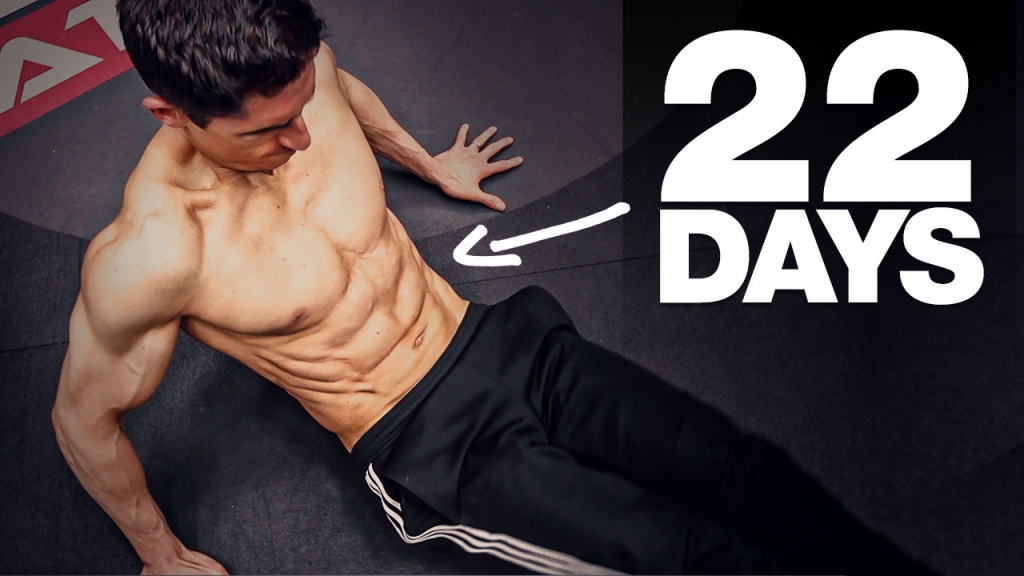 six pack ab workouts at home
Only 22 days for a 6 Pack?  Well okay, let's be clear here.  I'll give you the bad news first.
If you're currently at 30% body fat, getting a six pack is not possible in 3 weeks. You probably already knew that.
But hold on…
I've got three pieces of encouraging news for you too:
You can actually get six pack abs to show at much higher body fat levels than you might have thought. For some people it's possible to start to see the outline of a complete set of abs at body fat levels in the mid-teens.  Maybe it's not a sharp six pack, but you can see them!
You don't need access to a gym and you also don't need to count, weigh or measure every morsel of food that goes into your body to get a visible six pack. You can do your ab workouts at home and your nutrition plan doesn't have to be overly complicated.
22 days is about the amount of time it takes to implement a solid habit change.
I've said it many times. The most important key to reaching low enough body fat levels to have visible sixpack abs is following a good nutrition plan. You simply cannot out train a bad diet.
That said, if you can stick with those nutrition changes and combine them with the six pack workout at home I'm about to show you, it could be a real game changer. In just 22 days you can see a huge difference in your lifestyle and your approach to working out that could stick with you for the rest of your life!
I've said it many times. The most important key to reaching low enough body fat levels to have visible six pack abs is following a good nutrition plan. You simply cannot out train a bad diet.
So what's the workout we're going to be doing?
It's a home abs workout on the floor with no other equipment required.  It's going to follow my Six Pack Progression to work every single ab function in the most effective sequence from your lower abs to your upper abs to your obliques. And I'm scaling it for every single level, from beginner to advanced.
Let's take a look at how this sixpack workout will be structured!
best ab exercises at home
For this at home abs workout we're going to be using a technique called Extinction Training.
In my opinion, this is the best at home ab workout because you're able to hit failure on every single exercise which really sparks the growth your ab muscles need to start to pop.
Here's how it works.
For each exercise you'll do the number of reps prescribed and then rest 10 seconds.  Repeat, doing the number of prescribed reps and then resting 10 seconds.  Keep repeating until you get to a round where you're not able to complete the prescribed number of reps.
At that point you become extinct and move on to the next exercise.
Beginners may get knocked down in the very first round. But that's okay because there's room for improvement!
So with that being said, let's start going through the actual home workout.
1.)

W-RAISE (5 REPS)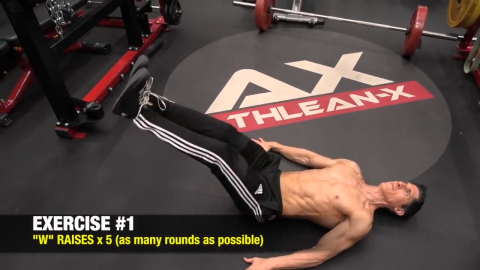 Exercise Notes: The W-Raise is a great addition to your lower abs workouts. It is made up of three parts in which we're basically drawing an upside down 'W' with our legs. Start position is lying face up flat on the floor with legs extended at the low point of the outer leg of the 'W'. Keeping a strong core and legs straight, go up and then slowly lower your legs down halfway. Then, lifting your legs back up to the top maintaining that straight line, use your core strength to finally come back all the way down to the other outer leg of the W.  Then you reverse the 'W' to return to the start. Do 5 reps, rest 10 seconds and repeat until you can't get the 5 reps.  Then move on to the next core exercise. Can't even get the first 5? Just move immediately to the next.
2.)

BLACK WIDOW KNEE SLIDES (45 SECONDS)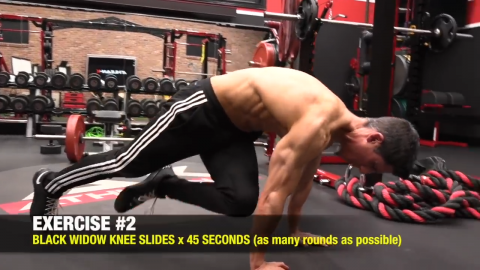 Exercise Notes: In this bottom up rotation exercise you'll cross your knee over and drive it into that opposite elbow. Start in high plank position with hands directly beneath your shoulders. Lift the left knee toward the right arm and slide it up the forearm to get more of that posterior pelvic tilt and engagement of the abdominal muscles. Then do the opposite side, bringing your right knee toward your left hand. Do this for 45 seconds then rest 10 seconds and start again.  Once you can't make it through 45 seconds, just move on to the next exercise. It's going to be difficult for even the most advanced to do very many sets at 45 seconds apiece with just a 10 second rest!
3.)

BUTTERFLY SIT UP (10 REPS)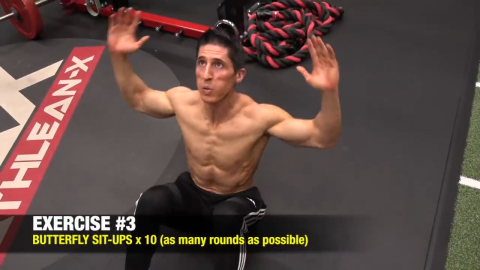 Exercise Notes: In this midrange exercise your arms provide you with a little bit of momentum to help to get you off the ground. You also open them up which engages the upper back. Start lying with feet flat on the ground, arms crossed in towards your chest. Using your ab muscles, bring your upper body off the ground as you open your arms into goal post position, then slowly lower yourself back down to return to starting position. You'll do 10 reps followed by 10 seconds of rest until you get to extinction.  Then move on to the next exercise.
4.)

SEATED CORKSCREW (45 SECONDS)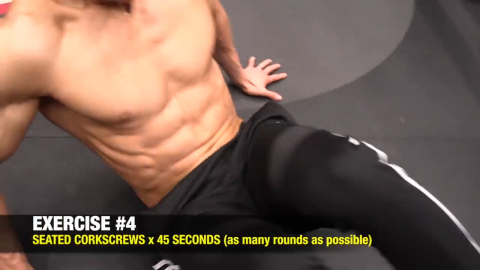 Exercise Notes: To do this abs and obliques exercise, start with your hands back behind your body and bring your knees in and across, really trying to contract the obliques. Then extend your legs back out to starting position and repeat toward the opposite side of the abs. Engage your core as you move upper and lower body at the same time. See if you can go for the entire 45 seconds and then take 10 seconds of rest.  Repeat as many times as possible before moving on to the next exercise. Beginners might find that they can't even get through the first 45 seconds.  That's ok because it gives you a place to start and something to improve upon.
5.)

LEVITATION CRUNCH (10 REPS)

Exercise Notes: For this top down movement, we're trying to move the upper torso without moving the lower torso. Start lying on the ground with feet flat on the floor and crossed arms above your head. Lift upper body up and clear your shoulder blades off the ground and then hold and pause at the top for a one or two count. Try to make the upper abs work and hold that contraction for 10 good quality reps. Take 10 seconds of rest and repeat until you can't complete the entire 10 reps.  Then move on to the last exercise.
6.)

SIT UP ELBOW THRUST (ALTERNATE 5 REPS TO EACH SIDE)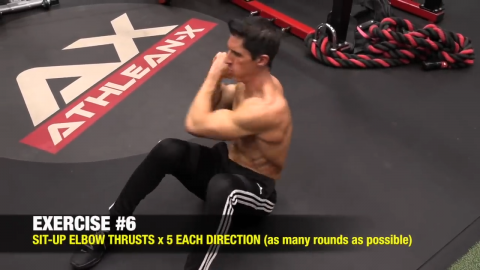 Exercise Notes: This is our top down rotation movement, and you can see that it's a bit more explosive, too.  Lying with knees bent and feet on the floor, sit up and drive your left elbow across your body toward the right, then come back to center and then finally lower yourself down. Then hit the other side. The goal is to get all 5 reps to each side, rest 10 seconds and repeat.  Had we programmed this exercise in the beginning it might not have felt so difficult, but because you're doing it in a fatigued state, it's going to catch up to you!
If you make the commitment to be consistent with this quick ab workout at home and stick to your nutrition goals for 22 days, you'll develop a habit that will set you up for a lifetime. And hopefully a whole new lifestyle! And that habit is what's going to get you to that goal of those visible six pack abs.
If you are looking for a program that contains all the best ab workouts for men at home, as well as routines to get you ripped from head to toe check out our ATHLEAN-X Programs. They comes with a complete nutrition plan that requires no weighing, measuring or calculators to make it easier for you shift your diet to lose belly fat and get that six pack to show once and for all!
XERO ==> Train at Home With No Equipment
XERO 2 ==> Unlock New Gains With No Equipment or With a Pullup Bar & Common Household Items
Program Selector ==> See which program best fits your goals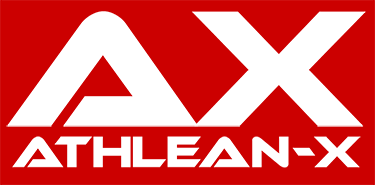 THE HIGHLIGHT REEL:
How To Get SIX PACK ABS At Home
If your body fat level is currently high, it's not going to be possible to get six pack abs in just 3 weeks, but 22 days is long enough to develop and implement the right habit changes to get you there.
You may actually be able to see your abs at higher levels of body fat that you thought possible, even in the mid-teens.
It takes about 22 days to implement a solid habit, and it will be necessary to make both nutritional and exercise habit changes to get your six pack to show.
If you make those nutrition changes and follow the core workouts at home that I've shown you here, you can develop habits that will last a lifetime and ultimately get you to your goal of 6 pack abs.
Watch the YouTube version of this article
Popular & Trending