Estimated Read Time: 1 minute
I just finished hanging out with an expert powerlifter, THAT 1 LEGGED MONSTER – KC MITCHELL and he showed me something that instantly increased my bench press, and I promise that it will do the same for you!
The best part about this is that you can learn how to do it relatively quickly. As a matter of fact, you'll be able to implement the tips I show you and see up to a 40 pound boost in your bench in just 1 workout!
I guarantee that you've likely not been doing this when you perform the bench press. But when you do, the gains will come quick and easy! You'll definitely want to give this a try.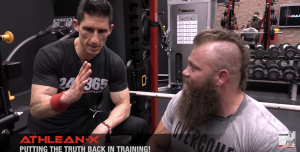 STAY STRONG…
JEFF
P.S.  The information taught in this video is often taught incorrectly.  This is made so simple, I feel as if it's instantly going to connect for you and you're going to be able to see immediate boosts to your bench!
This Will Add 40 lbs to Your Bench Press…
P.P.S.  The lifts you do are important.  How you do them is even more important.  I make sure you get that from every program I create.  Because of this, you are empowered and the gains come faster than ever.
Watch the YouTube version of this article