Estimated
Est.
Read Time: 15 minutes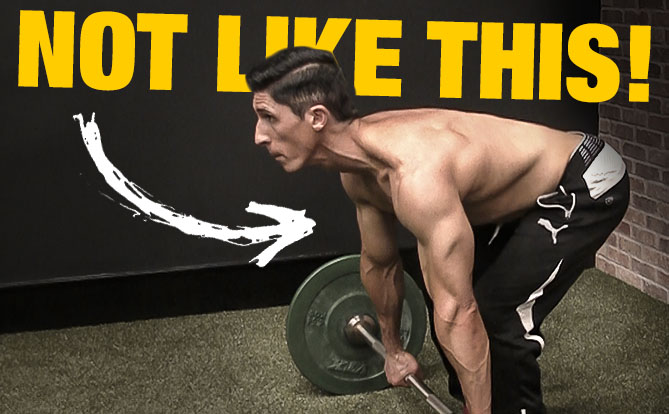 WHICH BARBELL ROW IS BEST?
Today we're going to talk all about one of my favorite movements for the back muscles: the Bent-Over Barbell Row.
You know which one I'm talking about right?
That's a trick question, and the point of this article.
There are a lot of different ways that people try to teach you how to do Barbell Rows.
But I don't think there's a one-size-fits-all row. If you want to find the row that is ideal for you, it starts with your current fitness and flexibility level as well as your training goals.
Today, I'll be covering the common mistakes and no-nonsense approach to determining where you should be starting with a Barbell Row. I'll also talk about how you can get the most benefit out of it for what you're trying to achieve.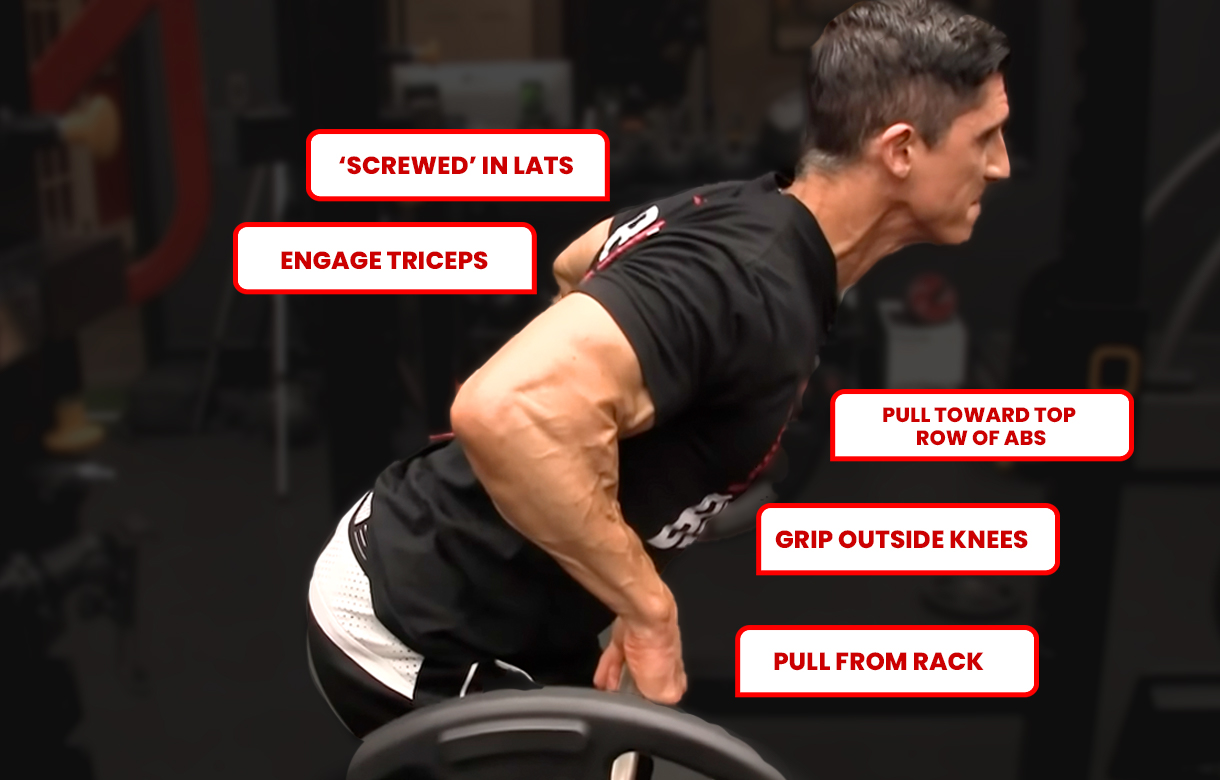 ANATOMY OF THE BACK
Before I jump into how to do Barbell Rows, let's break down the anatomy of the back muscles so you understand exactly which muscles are being targeted.
Latissimus dorsi
Trapezius
Lower back / erector spinae
Rotator cuff
Teres major
THE LATS (LATISSIMUS DORSI)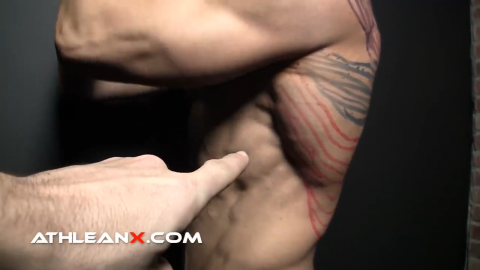 The biggest muscles of the back, the lat muscles are targeted by vertical pulling exercises like the Pull-up, Lat Pulldown, and Bent-Over Row. When building muscle to make it look like you have a bigger back, these are the primary muscles to target.
TRAPEZIUS AND RHOMBOIDS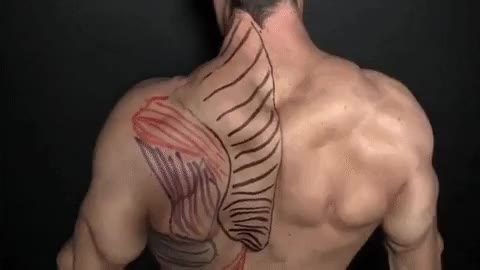 They might not be the largest upper back muscles, but the middle traps and rhomboids are essential for proper posture, shoulder joint function, and the overall health of the shoulders.
LOWER BACK / ERECTOR SPINAE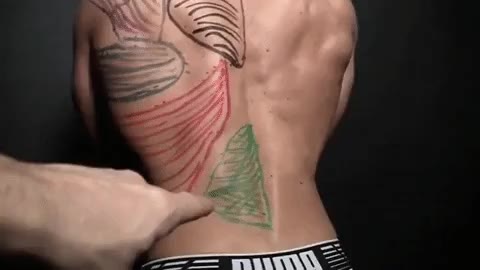 The low back is a crucial link to our entire kinetic chain and torso. If it gets hurt, you'll be taken out of commission, and you won't be able to lift weights for a while.
ROTATOR CUFF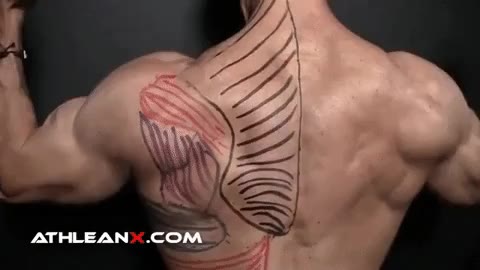 Located right next to the rear delts, the rotator cuff muscles play a major support role in back exercises.
TERES MAJOR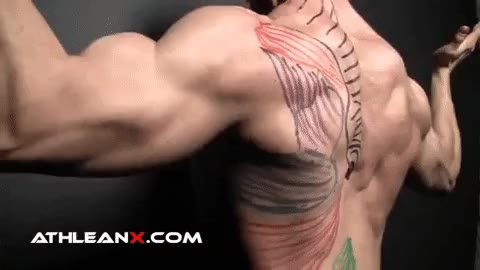 The Teres Major might be a small muscle but it's important for all pulling exercises.
THE PENDLAY BARBELL ROW: NOT A UNIVERSAL EXERCISE
Let's focus on the Bent-Over Row that most people are learning in their training programs, the Pendlay Row.
Named after the person who invented it, Glenn Pendlay, this compound exercise has a starting position from the floor instead of a rack. This one distinction changes the entire technique of the row.
As a side note, the Glenn Pendlay Row is NOT the same thing as the Dorian Yates Row. These are two completely different style of rows.
This compound exercise has a starting position from the floor instead of a rack. This one distinction changes the entire technique of the row.
When you perform a Pendlay Row, you're told to get all the way to the point where your back is horizontal to the floor.
Now, while there's plenty of benefit to this version of the row, it's here that the first problem comes in and kicks off our list of common starting position mistakes.
HIPS COMPROMISE FORM
A lot of people don't have the ability to get in this hinged position during Barbell Rows either because of tight hips or an injury or surgery from years ago.
If you have tight hamstrings, you're going to run into the problem where you will compromise your form. For example, as you come down to the floor into the common starting position of the Pendlay Row, you might be able to maintain a natural arch in your low back, which is what you want. However, if your hamstrings no longer have any flexibility left in them, your hips have to curl under in order to keep getting down to the bar.
Essentially, you won't be able to keep going with proper form in this bent-over position because your hamstrings are blocking you.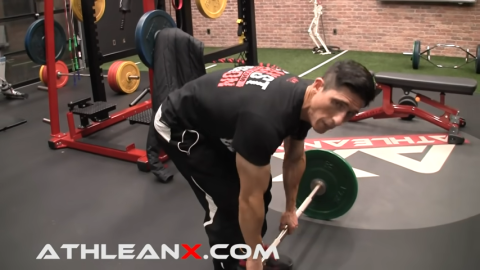 Continuing with that example, if you curl your hips under, you might be able to get down, but you'll also have a flexed spine. If you are using heavy weight plates, you're asking for trouble. Even lighter weights are going to be problematic during this compound movement.
ROW LIKE YOU DEADLIFT
But this is where the bad form gets even worse.
With the Pendlay Row, you're usually using a row technique that goes higher than your standard Barbell Row. When you row higher, the bar and the load start to travel a little further away from your body.
In order to lift the weight, you'll start in a bent-over position and you'll move into one of these compromised positions where the barbell is out and away from your body, take an overhand grip, and then you'll explosively pull up.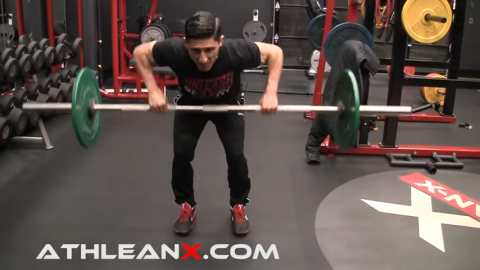 The distance of the bar and the range of motion is terrible when you consider that your lower back is not in the optimal position. What's more, it makes scapular retraction impossible.
Think of it this way: Nobody would ever advise you to load up the bar, get into a deadlift position with the barbell away from your body, then explosively stand up. So, why would you do it during an overhand Barbell Row?
That brings us back to the original point: where is your back in relation to the floor? Are you physically able to get all the way down into a horizontal position and maintain this position while explosively pulling?
I'm going to argue that most of you are not ready for this type of Barbell Row.
WHAT'S THE RIGHT ROW FOR YOU?
What is the main goal that you're trying to accomplish with this exercise in your workout?
If you're trying to be explosive, powerful and athletic, then naturally you'll feel like you should be doing the Pendlay Row.
If you want bigger lats and better grip strength, you'll perform the stricter version of Barbell Bent-Over Rows. These bodybuilding-style Barbell Rows are done with a range of motion targeting the muscle activation for lat hypertrophy.
But I want to make sure that you're covering all bases with strong posture. I'm going to show you a version of the Barbell Row that's even better than the Pendlay Row for athletic gains without the risk of injury, especially a lower-back injury.
You'll also naturally see some muscle growth with this Pendlay substitute.
HOW TO DO BARBELL ROWS: THE PENDLAY SUBSITUTE
From the top down, I'm going to cover a much better and safer Barbell Row for you to get started with.
If your ultimate goal is to row explosively, don't worry, I've got you covered. Sometimes we need to take a few steps back in our routine in order to get ahead. This is an excellent exercise, but for now, skip the heavy barbell and let's bring it back to the basics.
THE SET-UP
To get into Barbell Row form, you'll want to start with both the bar and your stance inside of a rack. If you don't have a rack, that's okay. Try to set a bench next to another bench. It'll provide a similar height and allow you to engage the same proper rowing form to do the movement correctly.
Assuming you do have a rack, get inside and set it up so that the rack bars are just below knee height.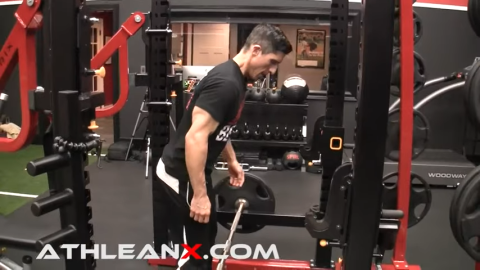 The aim is to set yourself up in a stance and position where your rigid torso is angled forward and you're engaging those core muscles.
Keeping the torso and core tight throughout the exercise will support your form, but it'll also help you build a stronger core.
You don't want to go all the way down because your hamstrings probably won't be ready for angles like that. You also want the bar to stay close to you.
GRIP WIDTH
Now, as far as grip widths and where you want your hands to go on the bar, aim for the beginning parts of the knurling. This is basically just outside your knees.
It's important that you start and get used to a traditional overhand grip. Maybe down the line, you can use a mixed grip or narrow grip, but as you learn this version of the Bent-Over Barbell Row, I want you using an overhand grip.
HOW TO PULL
When you pull, you want to be in a position that allows you to get your elbows behind your body maximally.
If you pull to the waist, you won't be able to get your elbows that far beyond your body.
Instead, if you pull to the top row of your abs, you'll get your arms much further behind your body.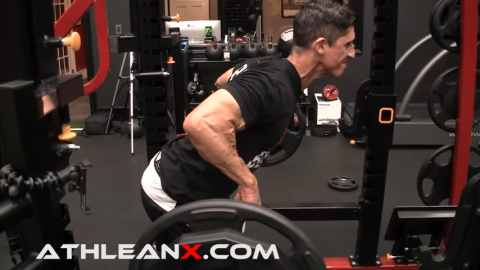 Try this a few times as a warm-up, and you'll see that you will get a lot more extension of the arms behind the body, which is the function of the lats.
You don't want to let your arms and elbows flare because you'll lose the adduction of the lats. Again, this is what you're trying to target.
You want to make sure the elbows can stay tucked. That's why you are lifting with the narrower grip and pulling in tight. Do not pull high and let the elbows drift.
SCREW IN YOUR LATS
Another cue I like to give people is, when you're pulling the bar imagine that you're trying to break it.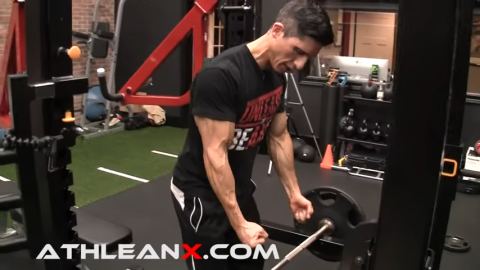 You're trying to break the bar in half and as you do this, you are essentially "screw in" your lats.
Obviously, you're not going to break the bar, as hard as you try, but you will see and feel how much more activation of the lats you'll get. This type of contraction is one you won't get with the explosive version of the row.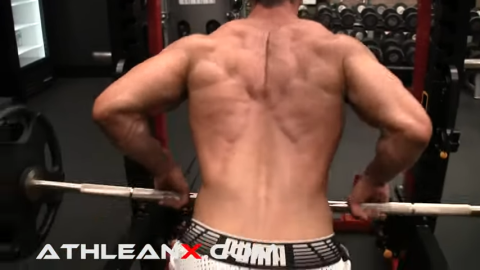 And most importantly, with the barbell being much closer to your body, your back is not being forced into a position it cannot get into. That means, you've turned this lift into a much safer version of the Barbell Row.
TAKE YOUR BICEPS OUT
When you're at the bottom of the row, people have a tendency to pull too much from the bicep.
If you want to see how ineffective the bicep is in this position, all you have to do is turn your arm down and flex.
You'll see a huge difference from an underhand grip flex. Despite how hard you're flexing, there's not that much tension. But as soon as you flip the bicep up, you can feel a lot more tension in that bicep.
In this case, the bicep is a weak link, costing you your opportunity to lift more weight on this effective exercise.
So, what I'm saying is, try to turn it off before you pull.
I still want you practicing with light weights but once you master the form, you'll be able to safely move up to heavier weights.
To do that, focus on the triceps. At the bottom of every rep, contract your tricep muscles and this will reciprocally turn off the bicep. From here, when you initiate the pull, it's happening from the lats as opposed to the bicep trying to initiate the move.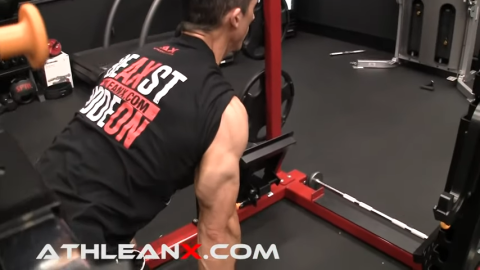 Make sure that when you do this, you are just off the rack. You want to make sure the triceps have an opportunity to contract, but they won't do that if the bar is on the rack.
EXPLOSIVELY PULL WITH A DEAD ROW
Finally, if we're talking about rowing explosively, I'd recommend the Barbell Dead Row instead of the Pendlay Row.
Unlike what you're taught with the Pendlay Row, I don't believe that you should try to turn the legs off. What you should try to do instead is let them work to help with the pull.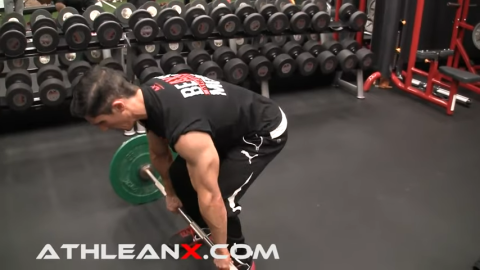 Take the bar, bring it closer, and then try to sit your hips down and back. This makes the exercise safer since it took the demands off the low back and hamstrings.
From here, row to the knees. When you get to the knees, this is your chance to explosively row up.
This is a much more explosive version of the Bent-Over Barbell Row that also lets the body work the way it's supposed to. What's more, you're building strength, explosiveness, and power.
When it comes to the Pendlay Row and the Barbell Row in general, don't do what people are showing you just because they say, "This is how it's done."
The truth of it is, the Pendlay Row may not be how YOU are supposed to do it. If you're limited in your mobility, I promise there's a better way to row.
All I care about is you getting out of the exercise what you want, without getting anything out of it that you don't want. In other words, all gains, and no injuries.
If you're looking for a training program that will help you progress your strength and build muscle, you've come to the right place.  Check out the links below to see which of our ATHLEAN-X programs best fits your goals.
Program Selector ==> See which program best fits your goals
AX1 ==> Train at Home With Dumbbells and Minimal Equipment
XERO ==> Train at Home With No Equipment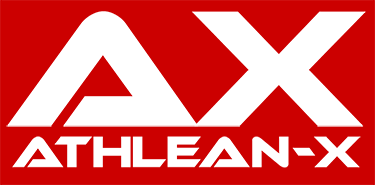 THE HIGHLIGHT REEL:
HOW TO DO BARBELL ROWS
The barbell row is one of the most performed back exercises. It is also one of the heavy back exercises that gets performed incorrectly the most.
Each body type is different, and every person has different sorts of muscle tightness and imbalances. This makes one version of an exercise ideal and one problematic.
The most popular advice on how to do a barbell row says that you should have your back parallel to the floor, starting with the barbell on the ground, then explosively lift up. This is called the Pendlay Row, and most body types cannot perform it correctly.
I recommend the Barbell Dead Row. This exercise keeps the explosiveness of the movement while improving your safety.
Set up in a squat rack, placing the barbell on the bumpers at just below knee level. Bend at the hips, but only lean forward into a 45-degree angle. Focus on squeezing the bar and lifting it to your upper abs while keeping your elbows angled down towards your sides.
Contract the triceps at the bottom of every rep to silence the biceps and help to keep them from attempting to dominate the row instead of your lats.
If your only goal is muscle growth in your lats, then you should opt to stay more vertical than the traditional Pendlay Row. If you wish to gain explosive athleticism and build ground-up strength, then opt for the Barbell Dead Rows instead.
The Barbell Row works the muscles of the back including the latissimus dorsi, trapezius, lower back/erector spinae and the teres major, as well as the rotator cuff.
The Barbell Row is worth doing if you choose the correct variation to reduce possibility of injury. Instead of the Pendlay Row, try a safer Barbell Row starting with the bar place on a low rack so that you aren't picking it up from the floor, leaning forward into a 45-degree angle and not further and rowing the bar to your upper abs while engaging the triceps.
The Barbell Row is a great exercise for building back strength and muscle mass as well as improving your posture. However, it's important to choose the right variation to avoid injury.
The safest way to perform Barbell Rows is starting with the bar placed on a low rack so that you aren't picking it up from the floor, leaning forward into a 45-degree angle and not further, and rowing the bar to your upper abs while engaging the triceps.
If you are doing Barbell Rows properly, they should not engage the biceps. Instead of pulling from the bicep you'll want to focus on using the back muscles and contracting the triceps when pulling, to turn off the bicep muscles.
Watch the YouTube version of this article
Popular & Trending