Estimated
Est.
Read Time: 14 minutes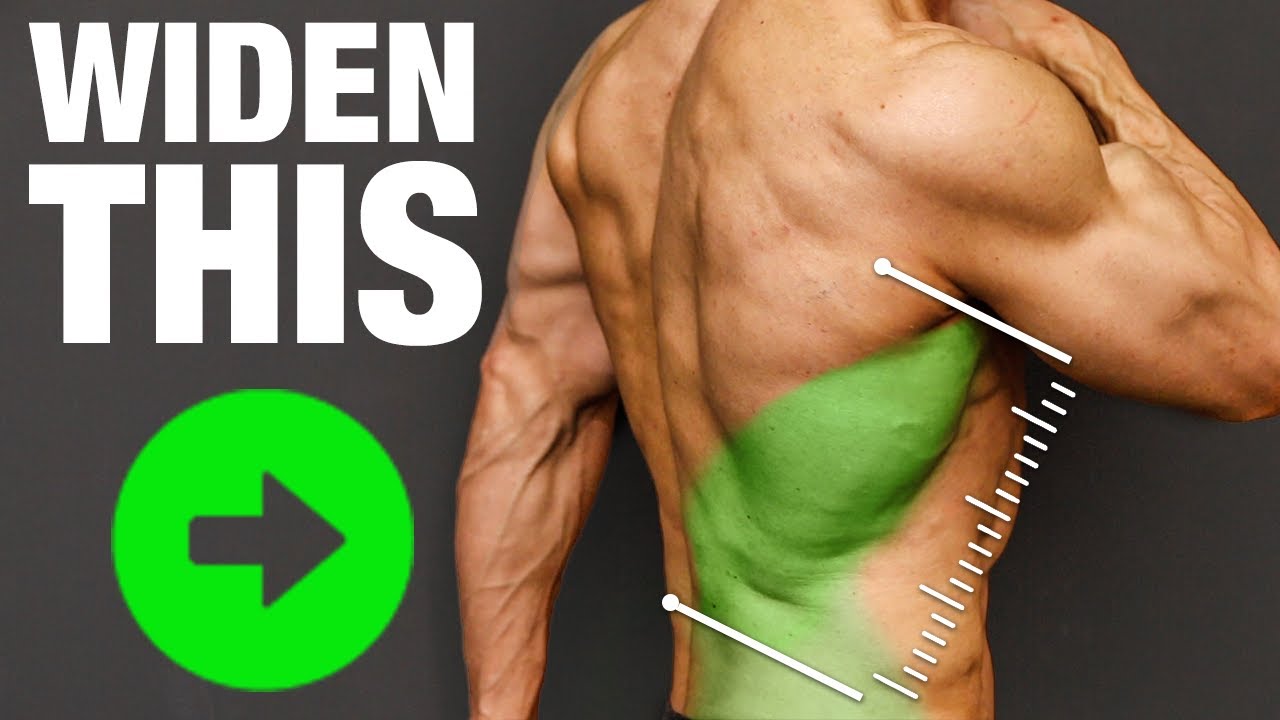 HOW FAR DOWN SHOULD THE LATS GO?
Quick question for you: Do you know how far down your sides your lats are supposed to go?
If you said, halfway down your sides, you wouldn't be alone.
Well guys, anatomically, they should come all the way down to your hips!
Do you think that you got dealt a bad hand with lats that only come halfway down your sides?
I'm going to ease your mind and tell you that's not the case. As all bodybuilders will tell you, you can build lat muscles that come all the way down to your hips.
As all bodybuilders will tell you, you can build lat muscles that come all the way down to your hips.
Whether or not you see the full length of your lats is determined by the exercises you're doing.
More importantly, it's determined by how you're doing those exercises.
Are you ready to change up your workout to get that v taper back? Keep reading because I have five of the best lat exercises for you. I'm going to show you how to do each of them to fully develop the latissimus dorsi muscles.
Say goodbye to the days of being one of those "half latter" guys.
ANATOMY OF THE BACK MUSCLES
Before I jump into my five favorite pull exercises to use for your training program, I want to break down the primary muscles of the back. This way, you'll know exactly which one we're targeting.
Some of you might be asking, "Wait, Jeff, what are lats muscles? More importantly, where are your lats?"
If you're able to, take a look at your back in the mirror as you read this to establish a strong mind muscle connection. Pay extra close attention when we get to the major muscle of this article: the latissimus dorsi muscle.
And remember that poor form can cost you, so it's important to learn about your muscles.
LATISSIMUS DORSI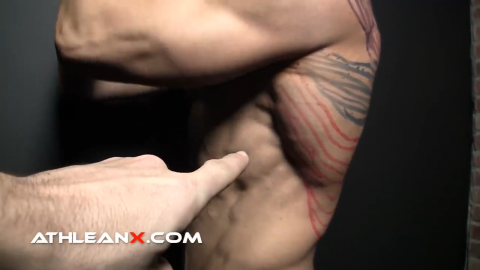 Let's start with the stars of the biggest muscles show. Lats are the largest muscle of the back, and they are located on the sides of your torso. They are considered the "wing" muscles of the back.
It's easy to see the attachment points of the lats since they are so big, and this is a huge advantage for you as you target them for lat muscle growth.
Two latissimus dorsi exercises that I guarantee you are familiar with are the standard Pull-up and Seated Lat Pulldown.
Are these the best to target your lats for muscle strength and size?
Let's just say this: I think you'll like what I have in store for your new latissimus dorsi workout.
UPPER AND LOWER TRAPS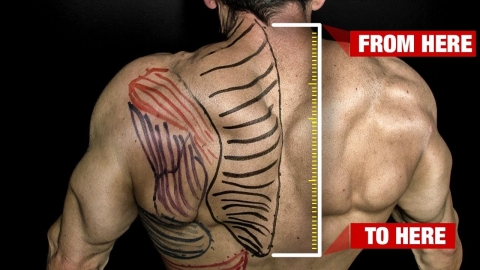 Next up, we have your trapezius and rhomboid muscles. Next to the lats, these muscles take up a pretty good chunk of your back.
They are especially important for your posture and proper function of your shoulder. Naturally, you want to give these two muscles attention when training the entire back.
 LOW BACK / ERECTOR SPINAE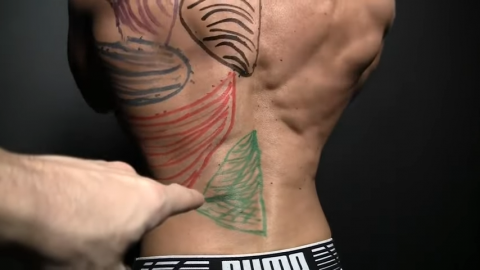 Next, the lower back and erector spinae are crucial for how we feel and function each and every day. Think about it: Have you ever been able to function at one hundred percent when your low back hurts?
The erector spinae are deep muscles that run along the spine and they're fundamental to your proper posture.
 ROTATOR CUFF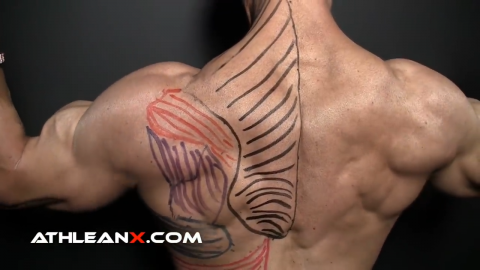 On the back of your shoulder, you'll find the rotator cuff muscles. Without these, you wouldn't be able to do any of the latissimus dorsi exercises I'm going to cover below.
TERES MAJOR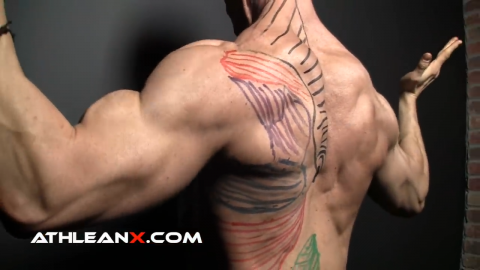 Here's a muscle that doesn't get the respect or attention it really deserves, probably because it's not as easy to find as bigger muscles like the lats.
The teres major appears in the form of a band along your shoulder blades, and it works synergistically with the lats to move your upper arm bone. Without this muscle, there would be no athletic performance.
BEST LAT EXERCISES FOR A V-TAPER BACK
Guys, I have one more thing that you need to really pay attention to before we get into the workout for v taper back.
If you are trying to develop your lats all the way down to the hips along with increasing upper body strength, you must focus on getting a peak contraction of the lats and not the biceps. Every. Single. Rep.
And to do this you've got to get peak adduction of the arm.
That means a full range of motion, possibly more than you're used to, with limited bicep involvement. Take your time with these exercises, and above all, bring the arms through the full range movement to ensure ideal activation of the lat muscles.
This might mean that you need to reduce the amount of weight you're using. Don't let your ego drive the car. Reduce the weight and remember that you can always build up to using heavier weights later.
I'd even recommend treating these as bodyweight exercises so you can get the form and movement down. Take 3-5 seconds during each concentric and eccentric movement and really learn the exercise. These can be your warm-up sets before the first working set.
During your working sets, start out with lighter weights and use 15-20 reps. Once you use heavier weights, strive to hit 8-12 reps.
For now, focus on that peak contraction. With that said, let's get started with your favorite primary movers: the lats.
DUMBBELL TRIPOD ROW
You might be surprised that the first exercise I'm going to show you is not a barbell back exercise. Rather, it's the Dumbbell Tripod Row, one of several row variations on the classic bodybuilding exercise. Grab a pair of dumbbells or a resistance band with handles.
You can even perform this as a Single-Arm Cable Row with a tripod stance, but I'd recommend getting the form down with dumbbells first.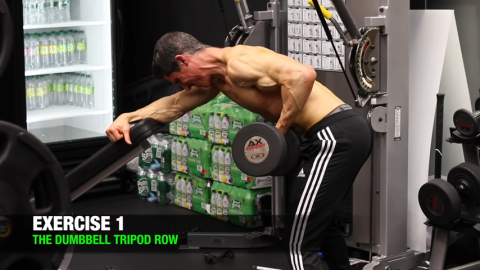 When performing this exercise or rowing exercises of any variation, do not let your elbow float away from your torso. If you do, you'll shift the load to the muscles of the upper back instead of your lats.
Instead, from the starting position, get that elbow as close to your side as possible and then initiate the row.
To do the tripod variation, place one hand up on the back of a bench for assistance and have both feet on the floor.
Do not put one knee up and one hand on a bench. This can actually cause hernias.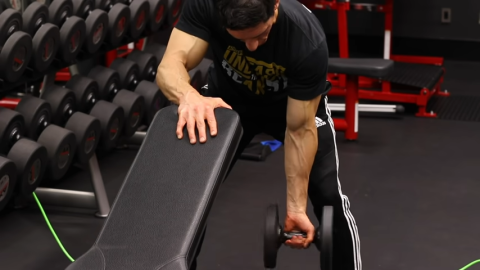 Let's talk about grip position during this rowing movement. Instead of having an overhand grip or even a neutral grip, I want to go with an underhand grip.
With this supinated grip, you can keep that elbow much tighter to the side. By getting it tight to the side, you're going to feel a much tighter contraction on the lats.
Grip strength will be helpful here if you're going heavy but remember to try it with lighter weights first.
WIDE ARM REVERSE PULLDOWN
Sticking with the idea of getting those hands underneath and changing the grip around, we could also do the same thing on a Wide Grip Pulldown. This will reinforce the same effect that we're looking for to really get into that lower lat.
What we want to do during the starting position is go wide just like you would during Wide Grip Pull-Ups. This gives us no choice but to go from wide to narrow as we drive the elbows down and in.

Again, the key here is to get into a reverse grip and get your elbows down behind your body into full contraction as close and tight to your side as you can. As always, keep your core tight as you do this.

If you dig those elbows in, you're going feel that really tight squeeze not just halfway but all the way down in your waist.
Let's say you don't have a Lat Pulldown machine for your workout, then what? You can use a pull-up bar and resistance band to do the same thing. A band with handles can also be used for the other exercises on this list.
Here's an awesome variation for you. If you're looking for an overhanded version of then you can do the Rocking Pulldown.
ROCKING PULLDOWN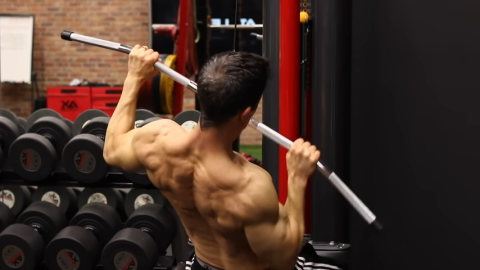 Not only does this variation help you keep the elbow tight into the side, but because of the rotation on the way down, you get more extension of the arm to ensure that extra squeeze on the lat.
This variation gives you a really good contraction.
ONE-ARM HIGH CABLE ROW
If there was a lat exercise that did for the lats what the Face Pull does for the rest of your body, then One-Arm High Cable Rows would be it.
This exercise is pretty damn near perfect because it gives you that excursion of the elbow all the way out in front of your body. It also gives you that height differential from a position that starts way up out in front of you and travels all the way down to your hip.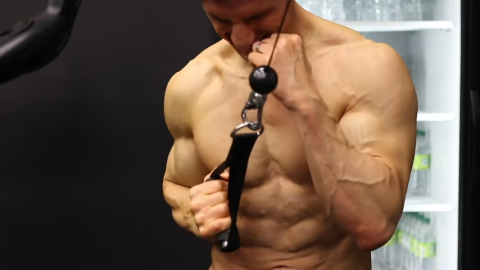 If you do this one correctly, not only will you get that big, long sweep in the lats, but you're also going to get that differential in the elbow positioning. This is something you don't get from a Traditional Pulldown pulling from above our head that we do get from this exercise where we pull out away from the body.
To perform it properly, you want your feet placed wide apart on the floor. Drop your hip back because when you get that arm out in front you're creating much more stretch in the lat.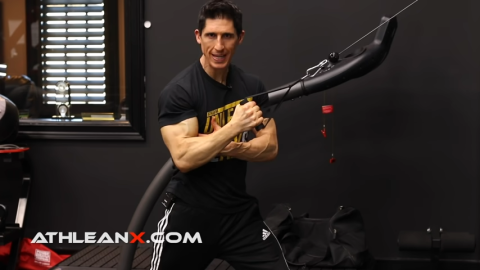 As you drive that elbow down, it's very easy to keep it close and tight to your side. Most importantly, you can literally target that hip point with your elbow. You'll see that your hand will come down to or just below chest height.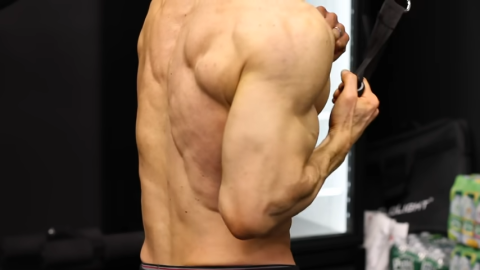 Keep those core muscles tight as you try to touch the elbow down to the hip with a little bit rotation.
If you don't have access to a Cable Crossover machine, that's okay, you can do this with resistance bands as well.
INCLINE SINGLE-ARM STRETCH PULLDOWN
It's not usually worth it to pull an incline bench over to a cable machine, but this is one of those times when it definitely is.
The Incline Single-Arm Stretch Pulldown gives you a great opportunity to get that full range of motion and contraction under stretch. More importantly, you'll get peak contraction on the lat if you do it right.
This is a lats muscles exercise that is going to trigger above average muscle activity.
Set the bench up at about a 45-degree angle at a cable pulley machine and then lay on one side with both of the feet favoring towards that side.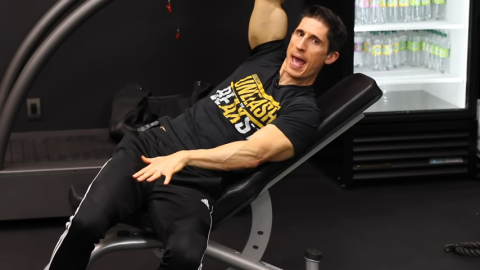 When I let the arm go up over the body, I get an intense stretch on the lats because I have my arm up all the way and the extra rotation from the hips.
The most important thing is I've got that clear line to drive this elbow movement right down towards that hip to really feel that intense contraction in the lat.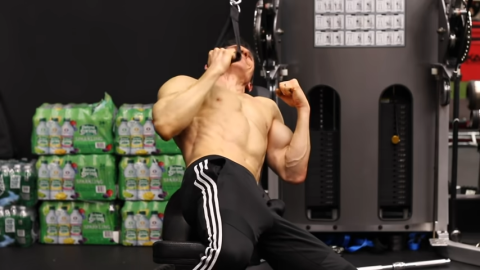 As you go back up, you'll get that deeper stretch again with a clear line to be able to really drive, squeeze, and try to touch that elbow right into the hip.
Since you're leaning on your side, you'll notice that the top of your hand will come down to shoulder height.
ONE-ARM CABLE PUSHDOWN
They say the fastest way to get from point A to point B is a straight line. And there's no straighter way to get from point A to point B than with the Straight Arm Push Down.
While you can't truly isolate the lats, this exercise is as close to a lat isolation exercise as you can get.
But we're not going to perform the exercise as the traditional two arm variation with the straight bar attachment because it actually stops the amount of extension and adduction you can get with the arm. That is due to the bar hitting your thighs.
Instead, you're going to put your feet shoulder width apart and do one arm at a time. Most importantly, you will continue past the normal stopping point from the bar version.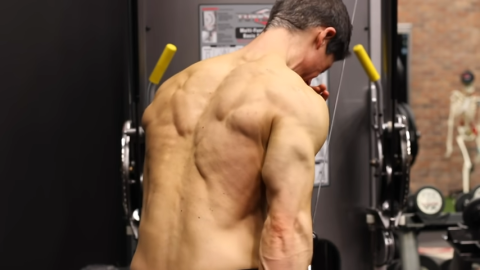 What we get with this variation of the common lat exercise is additional contraction. Why? Since I have a free hand that's not encumbered by the bar, I can actually go back and behind the body. This ensures I get more of that adduction; a little more extension to really fire up the lat.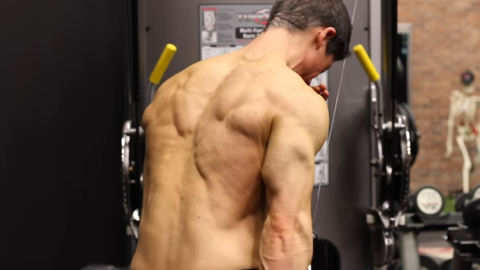 Also, to get that elbow even further down towards the hip and right behind me, I can get a little bit more approximation of those two points which in the end is going to create a lot more of an intense contraction.
So, there you have it, guys. Five exercises that you can use to get that full sweep and to build some seriously respectable v taper lats.
Remember that you do not have to do all of them to get results.
In fact, if you mix in one or two with your standard Heavy Rows, Weighted Pullups, and Deadlifts, you will notice a wider back in no time.
If you're looking for a complete training program to help you build muscle and strength, we've got you covered.  Check out our ATHLEAN-X programs to see which one is the best fit for your goals and fitness level.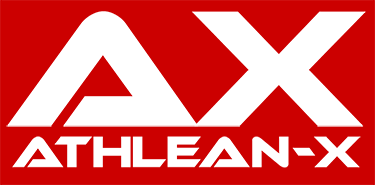 THE HIGHLIGHT REEL:
BEST LAT EXERCISES
Each of these lat exercises will take your lats through a full range of motion and create a peak contraction of the lats by digging your elbow into your hip at the bottom of every rep.
The first exercise is called the Tripod Underhand Row. When you switch to a supinated grip or underhand (chin-up) grip, your elbow becomes much easier to tuck into your side, drive towards your pelvis, and ultimately you can obtain a greater contraction of the lats in their fully shortened state.
Next, the Wide Grip Underhand Pulldown starts with your elbows out wide, and the only place for them to travel is down and in closer to your hips and pelvis. The underhand position helps to allow the elbows to ultimately get closer to your sides and increase the contraction of the lats.
The Rocking Pulldown is a bonus variation of the Wide Grip Lat Pulldown that keeps the underhand grip but adds rotation of the torso as you drive your arm down into your side.
The High Cable Row enables you to separate your hips from your shoulders by rotating them in opposite directions which really increases the stretch on your lats and allows for a more powerful contraction.
The Incline Single Arm Stretch Pulldown does require that you have access to an incline bench and a cable machine, but if you do, it's worth the extra effort. Get an amazing stretch on the lats by letting your arm drift high up overhead, with a clear target for your elbow to be driven down towards your hip on every rep.
Finally, there is no better lat exercise for building straight arm scapular strength than the Straight Arm Pushdown. Performing the move one arm at a time allows you to get past the level of your back to really increase the squeeze on the lower lats in the bottom position.
Try adding in some of these exercises to your current workout. They will go perfect with the Classic Barbell Deadlift, cable extension exercises, or other rowing exercises.
Watch the YouTube version of this article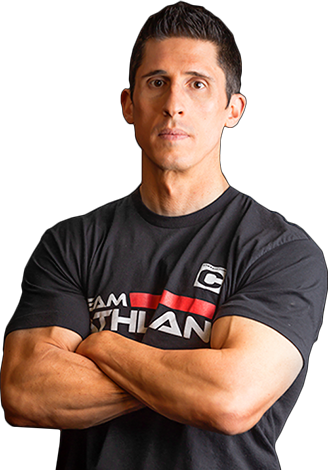 Jeff Cavaliere M.S.P.T, CSCS
Jeff Cavaliere is a Physical Therapist, Strength Coach and creator of the ATHLEAN-X Training Programs and ATHLEAN-Rx Supplements. He has a Masters in Physical Therapy (MSPT) and has worked as Head Physical Therapist for the New York Mets, as well as training many elite professional athletes in Major League Baseball, NFL, MMA and professional wrestling. His programs produce "next level" achievements in muscle size, strength and performance for professional athletes and anyone looking to build a muscular athletic physique.
Popular & Trending