Estimated
Est.
Read Time: 2 minutes
NOTE: HUGE NEWS BELOW IN CASE YOU'RE THE TYPE THAT LIKES TO SCROLL AND SKIM INSTEAD OF READ 🙂
Before the newly crowned "MR. X" left to head back to England, I put him through a bit of a test.
I call it my "DOUBLE X DESTROYER"!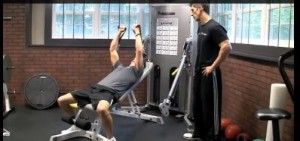 ==> See the video of it ABOVE Actually…he asked for it. Literally.
With Ben still attending college and wrapped up in a heavy class schedule he said it would be awesome if I could give him a kick butt workout that
– Hit all major muscle groups
– Could be done in a circuit
– Could be done in under 20 minutes
Consider it done.
==> Come watch for the first time on video…"The Double "X" Destroyer Workout ==>
Now…the BIG NEWS! Ben May's time here with me last weekend signified two major things.
The first was…with determination and a plan, you can accomplish great things. He did just that and took home the title of Mr. X (and the prizes that went along with that…including an unexpected invitation to train at the London Olympic Facility through the 2012 Games by the most prestigious training committee in the UK!)
The second was…IT'S TIME TO START THE PROCESS OF CROWNING A NEW MR. X! And what better time than now to start. 90 days from TODAY it will be January 1st! Yes, that's the day that most people wait to before they even start working out or trying to look better.
Then when they do, they wind up falling off in just weeks (statistics show that 85% have quit by January 21st!) because they're following programs that either don't work or haven't been able to keep their interest!
AthLEAN-X is neither of those. In fact, it starts working and showing noticeable changes in just 14 days for almost all of those that do it! So no reason to hold back. The title is YOURS for the taking if you decide to make today your first day on your way to "ATHLEAN!" CLICK HERE to get in the game and be the NEXT "Mr. X"!
Get your 90 day jump on your New Year's Resolution and an insane body…and all the spoils that come along with it! (after all…everyone likes prizes right?)
Stay Strong,
Jeff
PS. Wondering what the prizes are? Besides personalized training with me, cash rewards, and AthLEAN-X gear…you'll be getting the best prize you can get just by competing….your brand new ripped, lean muscled and athletic body!!
GET STARTED TODAY by joining TEAM ATHLEAN
Watch the YouTube version of this article
Popular & Trending