Estimated Read Time: 1 minute
If you're like, oh I don't know, EVERYONE in the world… you've got some hip tightness! Not to mention that you've probably tried all sorts of stretching to loosen them up. WRONG!
Stretching would actually come in last when it comes to recommendations for how to fix this. Especially if your "tightness" is limiting your ability to squat.
I'm going to break this down for you, step-by-step, to make sure that you finally get to the root of your issue. The good news is that you will be fixing it once and for all!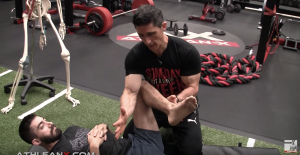 STAY STRONG…
JEFF
P.S.  The best way to attack anything is with a plan. If you do that, you'll waste a whole lot less time and you will get more significant results because of it.  If you want a whole program that will do exactly that for you and your body, just click this link and pick the program that suits you…
Pick the plan that suits you best here (step by step training)
P.P.S.  If you find this video helps you in some way, please do me a favor and share it with someone else you think it could help. It's the best way you can say "thanks".  Appreciate your help.
Watch the YouTube version of this article