Estimated
Est.
Read Time: 2 minutes
Jesse really bit off more than he could chew this time. He decided to challenge two time pro bowler and Green Bay Packer Super Bowl Champion Greg Jennings to a game of Madden Football. As you may or may not know, Greg Jennings has been quite synonymous with this popular video game after video footage years ago showed him carrying the team on his back doe, all with a broken leg!
The groundwork for this challenge was laid in a recent visit to Jeff Cavaliere's gym for a training session. Jesse decided to open his mouth and wasn't prepared to be taken up on his challenge. Greg Jennings, Madden Football player and actually in the game, was ready to step up and put a beatdown on the cameraman from ATHLEAN-X.
No broken leg or even the hardest hitting safety in the league is enough to keep the champ down. Watch as the game unfolds and see if you can predict the final score before it happens. Keep in mind, this is only a one quarter long game.
If you would rather see an actual workout than Jesse and his poor video game skills, be sure to check out the full NFL player workout with Greg and Jeff Cavaliere on this channel. You can subscribe at the link below. Be sure to turn on your notifications so you never miss a new video when it's published.
In the meantime, if you want a step by step program for building ripped, athletic muscle be sure to head to athleanx.com at the link below to get a 90 day workout and meal plan to guide you through every workout.
Check out Greg's instagram @theofficialgj for updates on his training progress.
Get Jacked in 90 Days – http://athleanx.com/x/my-workouts
Subscribe to this channel here – http://youtube.com/user/jdcav24
Watch the YouTube version of this article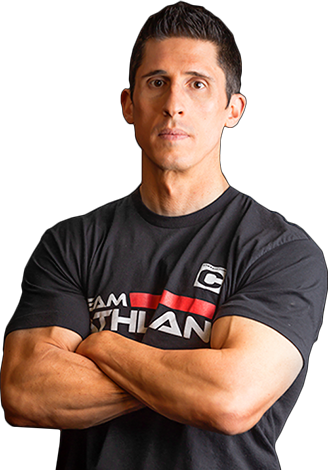 Jeff Cavaliere M.S.P.T, CSCS
Jeff Cavaliere is a Physical Therapist, Strength Coach and creator of the ATHLEAN-X Training Programs and ATHLEAN-Rx Supplements. He has a Masters in Physical Therapy (MSPT) and has worked as Head Physical Therapist for the New York Mets, as well as training many elite professional athletes in Major League Baseball, NFL, MMA and professional wrestling. His programs produce "next level" achievements in muscle size, strength and performance for professional athletes and anyone looking to build a muscular athletic physique.
Popular & Trending