Estimated
Est.
Read Time: 13 minutes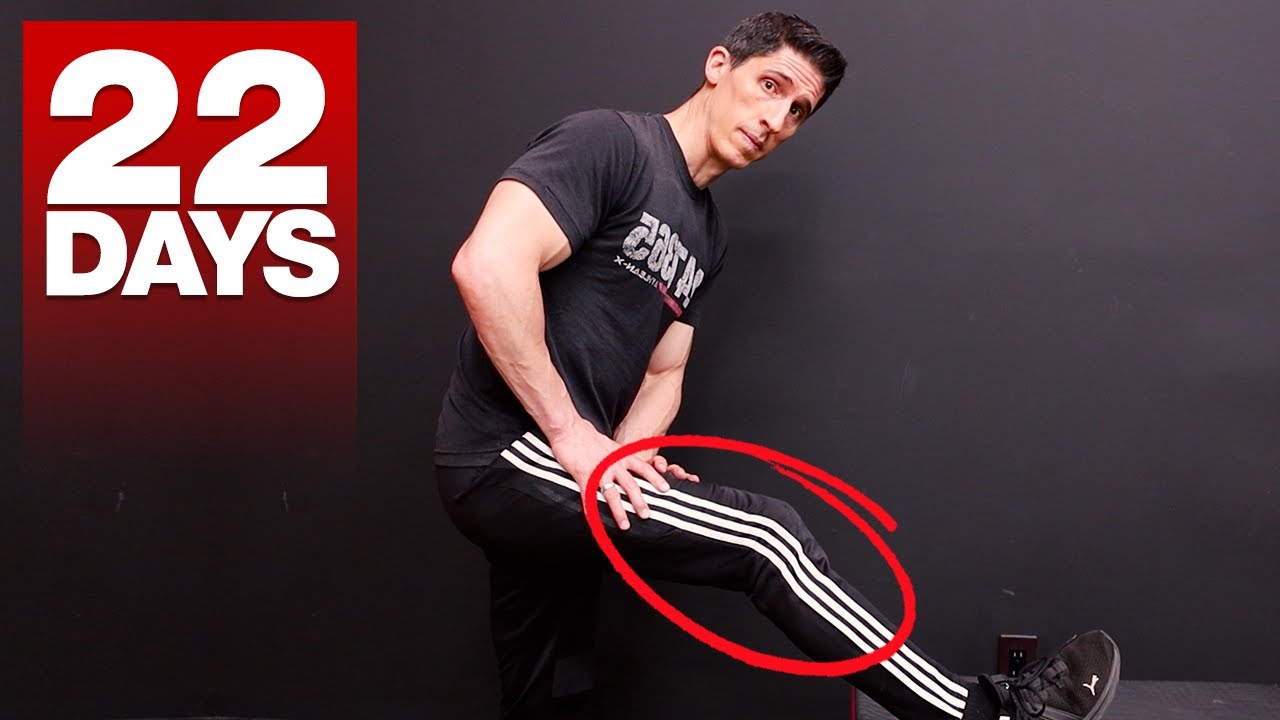 HOW TO FIX TIGHT HAMSTRINGS
If your hamstrings are tight, maybe in pain, and feel like piano wires in the backs of your legs, I'm going to show you how to tune them up in less than a month.
This could be one of the most helpful videos that you've ever watched. Chronic hamstring muscle tightness plagues a lot of us. As a physical therapist, I love helping fix issues like this.
You may have tried other routines to get your tight hamstrings loose, only to find that they don't remain loose for long, or worse, you end up hurting yourself in the process.
This hamstring stretching program… addresses both positions of the knee, straight (extended) and flexed… using both active and static stretches.
This hamstring stretching program works because it addresses both positions of the knee, straight (extended) and flexed, and promotes the right way to stretch tight hamstrings using both active and static stretches.
It also provides an objective way to measure progress while instilling a daily routine that you can comfortably fit into your schedule no matter how busy you are.
Your hamstring muscles will become looser within a month and help to prevent hamstring injury.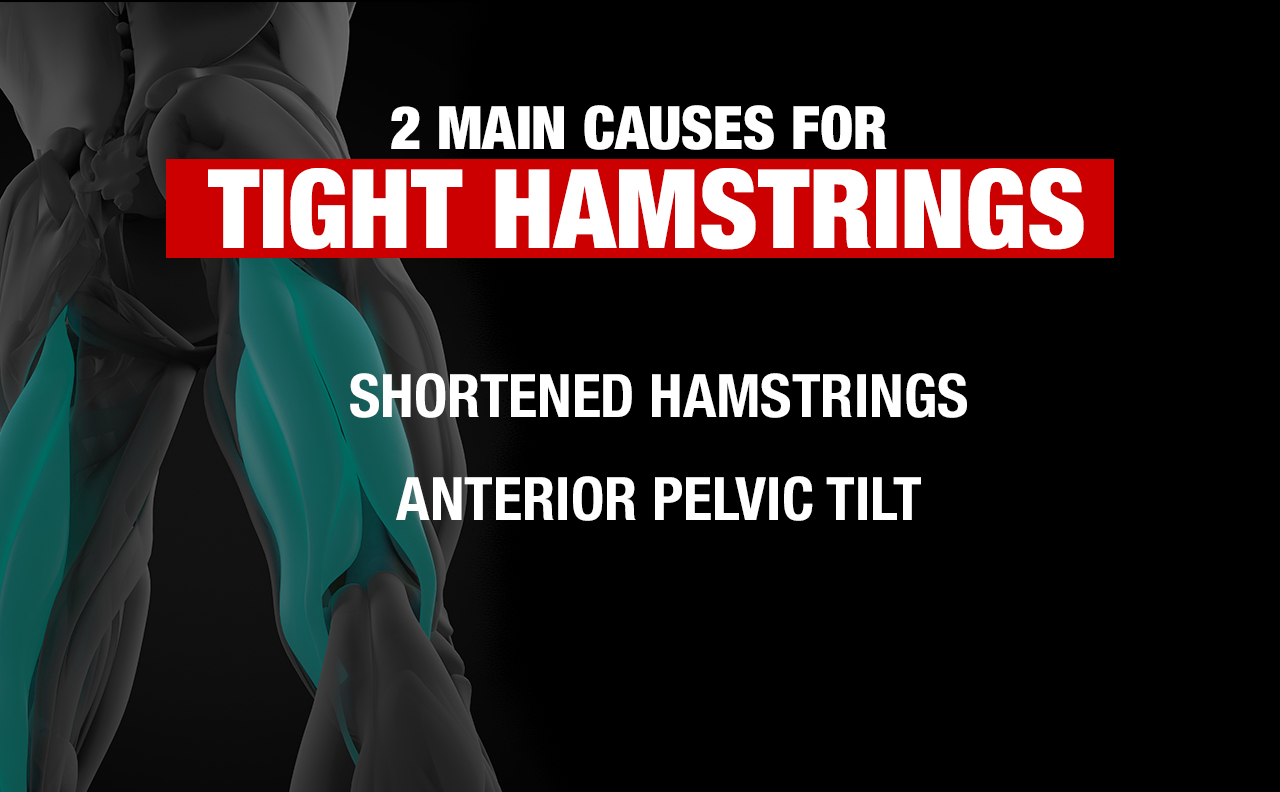 TWO MAIN CAUSES FOR TIGHT HAMSTRINGS
Your hamstrings may be tight because they are shortened, or it could be that your pelvis is tilted forward which puts tension on your hamstrings.
So, how do you know the reason?
If you have a gluteal "shelf", where you can rest a glass of water on your ass, you likely have a condition called anterior pelvic tilt. This condition tightens your hamstrings because the pelvis is rotating forward, pulling upward on your hamstrings making them feel tight.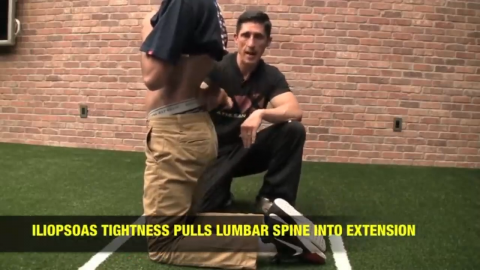 ILIOPSOAS AND HAMSTRINGS: THE PELVIC FORCE COUPLE
The iliopsoas and hamstrings both affect the tilt of the pelvis, called a force couple. In physical therapy, we think of the pelvis as a bowl of soup. It should stay in a neutral position, so that the "soup" can't spill out in front or in back.
The Iliopsoas is a hip flexor muscle that lies deep in the abdomen, originating along the front of the lumbar spine and inserting on the femur (thigh bone). The iliopsoas is one of the strong muscles you can't see that's responsible for raising the leg, and it receives a lot of work from other exercises. As it gets stronger, it can stay in a constantly shortened position, accentuating the natural arch of the lower back. It can cause the "soup" to spill forward.
Because the hamstring crosses the knee (which remains fixed), tight hamstrings can cause the pelvis to roll forward. The pelvis can also tilt forward if the hamstrings aren't strong enough to create counter-traction on the pelvis.
DISCLAIMER: If your symptoms sound similar to anterior pelvic tilt, don't do the exercises in this program. Instead, check out my article on anterior pelvic tilt for exercises to help with that condition.
TEST YOUR HAMSTRING FLEXIBILITY
Let's start the 22-Day program with a test we will use again on Day 22 to objectively measure progress.
Here's how to test your hamstring flexibility:
Position yourself against a wall like in the image below, lying on the floor with one foot flat against the wall.
Pull the other leg back to 90 degrees of flexion. Not too much and not too little. You want about 90 degrees.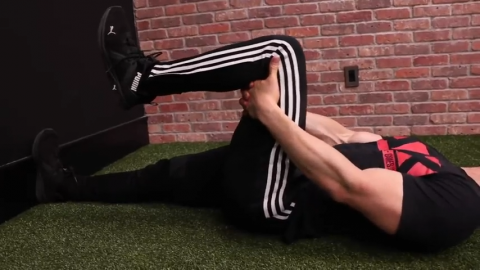 Now, straighten your leg, keeping your toes always pointed toward the ceiling as you do. Note that you'll feel muscle tightness but should never stretch past pain.
Look past the toe on your raised leg and visualize a point on the wall that lines up with the top of your toe.
Mark it with a piece of tape or something that won't damage your wall. It's helpful to already have a point of reference on the wall, like bricks, or maybe a picture frame.
That mark will give us a target to measure against on Day 22 when we re-test.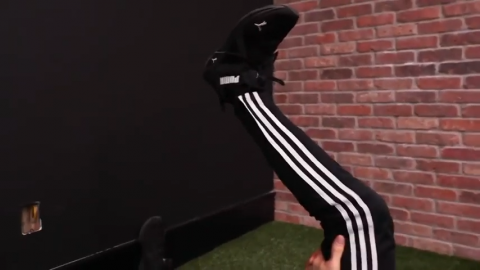 You may find that you have a fairly limited range of motion. Don't worry…we're going to fix that.
THE 22-DAY HAMSTRING STRETCH PROGRAM
We're going to break this hamstring stretching program into three, seven-day blocks.
Days 1-7 will be Block One, days 8-14 will be Block Two, and days 15- 21 will be Block Three.
Each block is going to consist of one morning and one night session, with dynamic work in the morning and static stretches at night. Morning is best for active stretching and evening is better for static stretches. It doesn't take long to do either session.
Let's get started. Please note that a good stretch may feel a little uncomfortable. You will feel muscle tension but it should never cause excessive pain.
hamstring stretching program BLOCK ONE: DAYS 1-7
On Days 1-7, you're going to do Leg Swings and Active Knee Extensions in the morning, and Straight and Knee To Chest stretches at night.
MORNING hamstring stretches
LEG SWINGS
There are two Leg Swings done one at a time, front-to-back and side-to-side.
1. Straight Leg Swing. Stand against a wall and swing high as you can and maintain a relatively straight leg.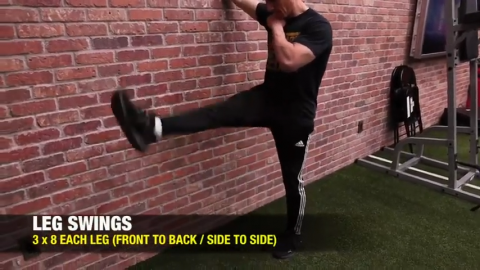 2. Side-to-Side Leg Swing. Turn and face the wall and swing each leg side to side across your body. Turn your toe outward on the ipsilateral side (right leg-right side) and inward on the contralateral side (right leg-left side).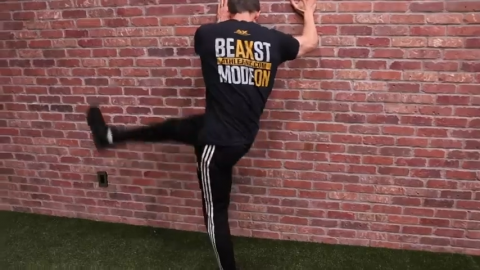 Side leg swings help you get both medial and lateral hamstrings specifically and dynamically.
Do three sets of eight repetitions in each direction using each leg for as much range of motion as is reasonably comfortable. Again, there should be no pain.
ACTIVE KNEE EXTENSIONS
This second dynamic movement of the day is how we tested on Day Zero, the Active Knee Extension.
Do these from the floor instead of against a wall. Hold that position for about three to five seconds, release, then repeat.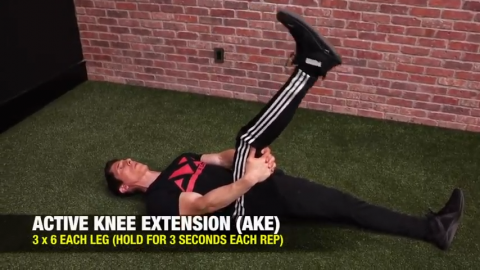 NIGHT HAMSTRING STRETCHES
The night session will help us increase those hamstrings' flexibility.
The first exercise is a simple standing low hamstring stretch. Proper form is the key here. A lot of us simply fold over because we're trying to stretch out hamstrings, but just folding over involves way too much low back.
STANDING LOW HAMSTRING STRETCH
Focus on getting as tall as possible to establish a slight arch in the lower back to increase hamstring engagement to get them in a prime position for stretching.
Now, reach out until you can feel your hamstrings engage.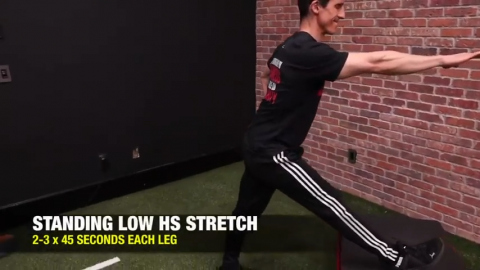 Hold this position for 45 seconds and do two to three sets of 45 seconds on each leg. Maintain the high chest and that slight arching of your low back for this to be effective.
KNEE TO CHEST
The last stretch of the day is the Knee To Chest exercise.
Lie on the floor and pull your upper leg back into your chest as far as you can. You'll feel this stretch a lot higher up in the hamstrings, near where they connect to the pelvis. Hold it for two to three sets of 45 seconds on each leg.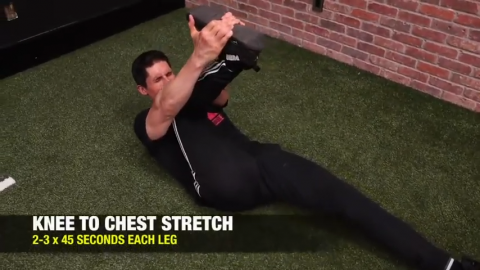 Here's a recap of the hamstring stretches done during those first seven days. We switch up the block on Day 8: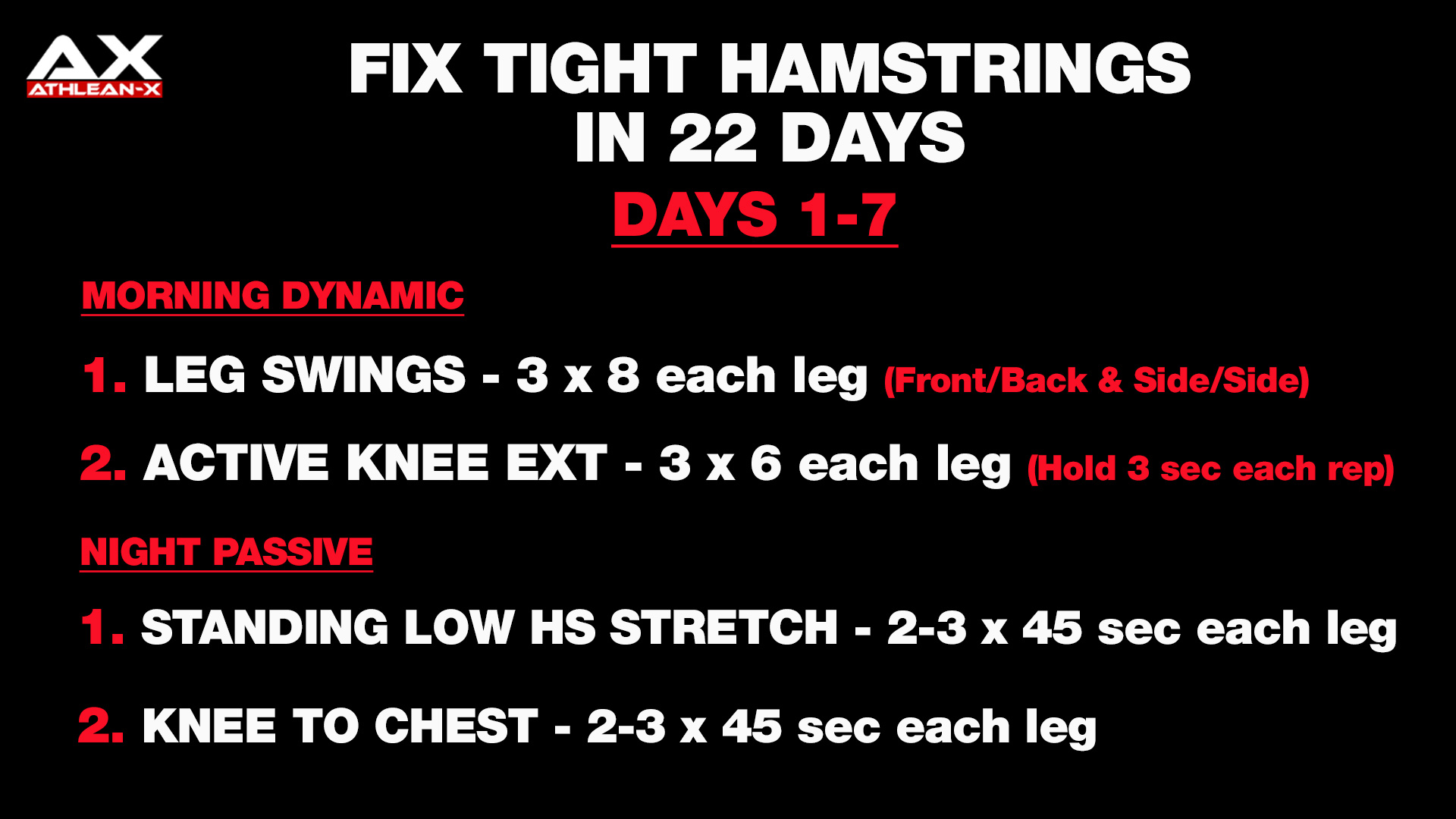 HAMSTRING STRETCHIng PROGRAM BLOCK TWO: DAYS 8 – 14
On Days 8 – 14, you're going to do a variation of an old yoga pose, the Downward Dog, followed by a hinge in the morning, and at night you'll do two assisted stretches using a wall and either a resistance band or a towel.
MORNING HAMSTRING STRETCHES
DYNAMIC DOWNWARD-FACING DOG
The Dynamic Downward-Facing Dog is a time-tested yoga move. Actively drive your knees up from their naturally bent position into as straight as possible, ideally all the way straight.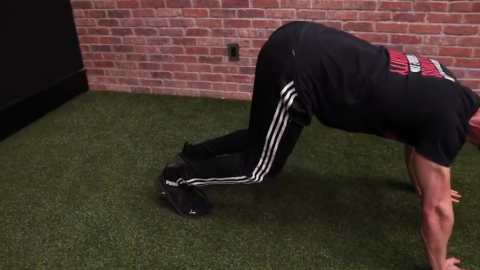 Perform this as a set of eight and perform three to four sets of the exercise.
WALL HINGE
The Wall Hinge focuses on a stretch with the knee bent.
Stand with your butt against the wall with your feet a step or two away from it, with a slight bend in the knees, and knees turned out.
The idea here is to get a really nice stretch on the biceps femoris. Do that by getting into a good hinge position, maintaining that anterior tilt and arch in the low back as you lean your body forward.
Anytime you have a free hand with any of these stretching exercises, a little massage therapy encourages the hamstring muscle to loosen.
With your free hands, work on the soft tissues on the backs of your legs with a sideways massage of the hamstring muscles. In fact, anytime you have a free hand with any of these stretching exercises, a little massage therapy encourages the hamstring muscle to loosen.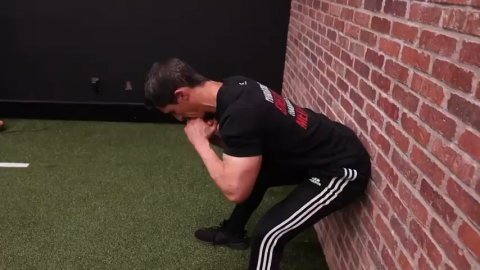 Perform this for three to four sets of eight, and your work for the morning is done.
NIGHT HAMSTRING STRETCHES
 WALL PLANT STRETCH
This stretch takes advantage of the wall by accentuating the stretch introduced in Block One.
Place one foot up against the wall, and incorporate a little bit of calf, which benefits us since it crosses the knee. "Climb" the wall to progress the stretch.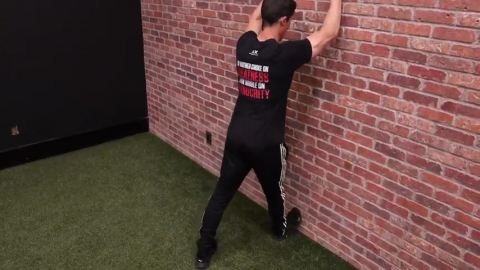 Do two to three sets on each leg, holding for 45 seconds each.
BAND/TOWEL STRETCH
Grab a resistance band or a towel (or a nylon strap, like physical therapists use) and lie face up on the floor. Pull back to increase the tension, using the leverage provided by the towel or resistance band.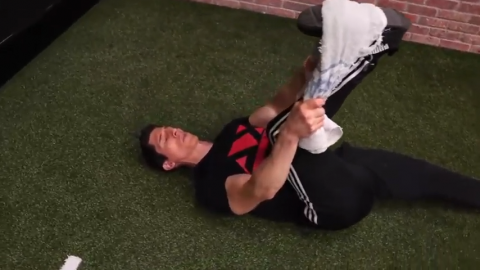 Allow yourself to get that deeper stretch by doing two to three sets of 45 seconds.
Here's a recap of Block Two: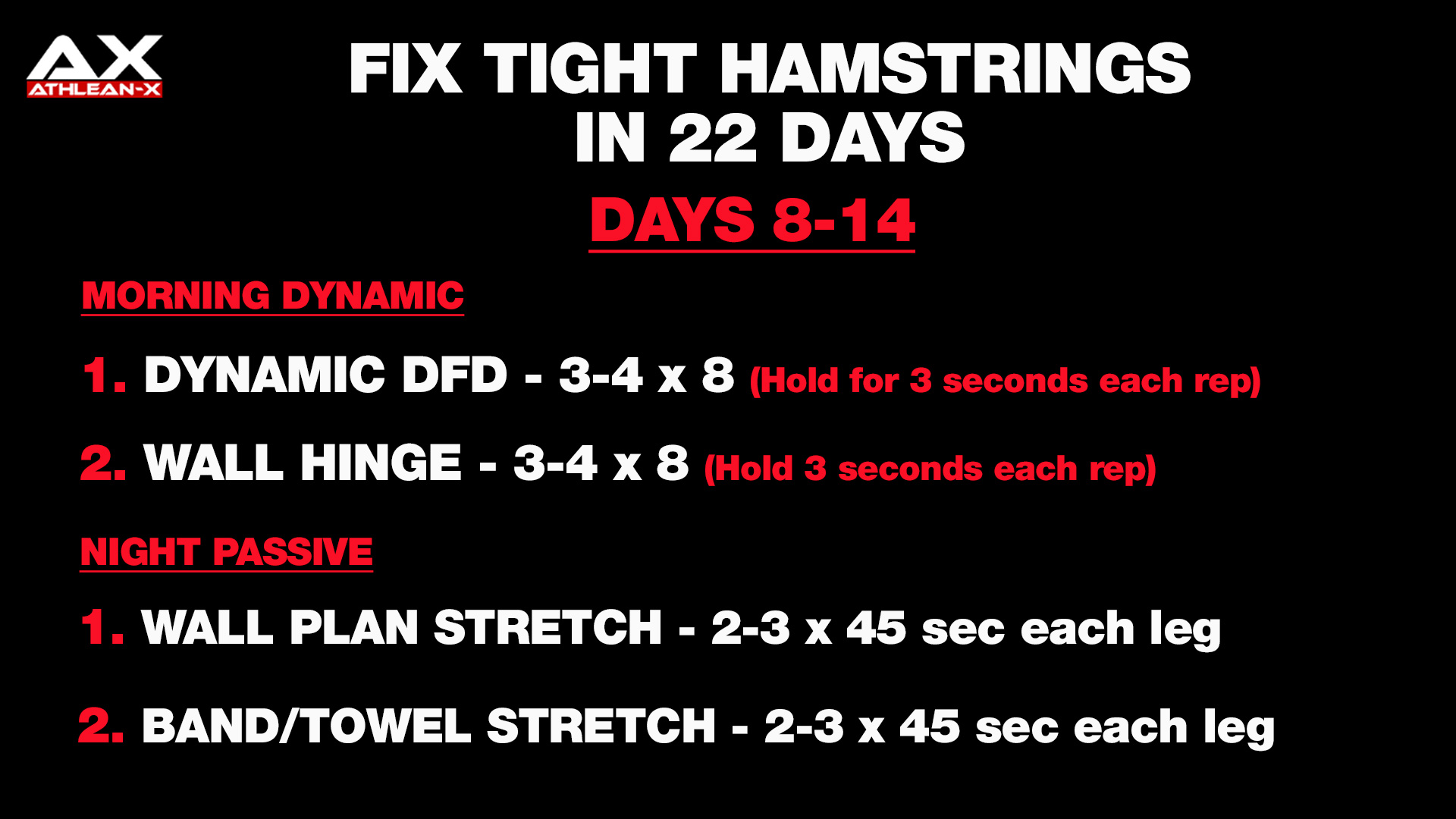 HAMSTRING STRETCHING PROGRAM BLOCK THREE: DAYS 15 THROUGH 21
Entering our final block of the program, you're going to be upping the ante a bit by involving the abductors and increasing the challenge to the hamstrings.
MORNING hamstring stretches
TABLE TOP STRETCH
The Table Top Stretch is a side stretch where you sweep left and right to also engage the abductors.
Select a flat surface that's about hip height, and wide enough for the side-to-side sweep.
With your hands parallel to the floor, slide them back and forth along that surface, rotating your upper torso as you go. This carries the stretch down through the hamstrings with some medial-lateral shift.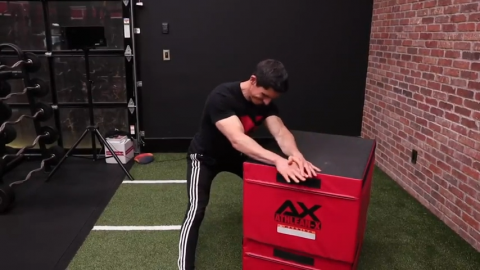 Do three to four sets of eight repetitions on each side. One complete pass, left to right, equals one rep.
BULGARIAN HAMSTRING STRETCH
This exercise focuses on just one side at a time. You're going to be stretching the hamstring of the leg that's on the floor.
Get into an exaggerated Bulgarian Split Squat lunge position, then lean forward, stretching the "floor leg" hamstrings.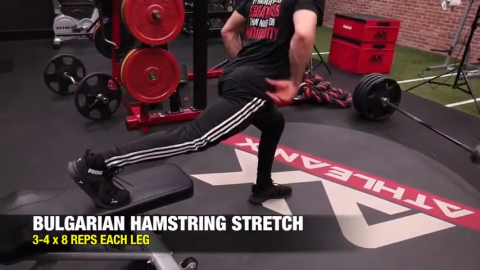 Do three sets of eight repetitions on each leg, as we've been doing all along.
NIGHT HAMSTRING STRETCHES
DOORWAY STRETCH
Sit with your hip right next to the door jamb. Lie on your back and lift the leg that's closest to the door and rest it against the jam itself. This should be a lot easier than when you started the program.
Now, make it even more intense.
Reach through with your opposite hand (if stretching your right leg, reach through with your left) and grab onto the backside of that door jamb. Pull forward for a greater stretch.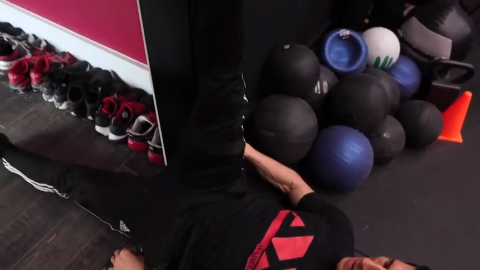 Hold this for 45 seconds, as always, two to three sets on each leg.
STANDING HIGH HAMSTRING STRETCH
Now for our final stretch, the Standing High Hamstring Stretch.
Assume the knee bent position with the hip in high flexion. Bring your knee up as high as you possibly can and lean into it. Maintain that slight arch in your low back and don't let your pelvis roll underneath you.

Do two to three sets of 45 seconds each. If you do these right, you'll feel that deep stretch up under your cheek.
Here's a recap of Block Three: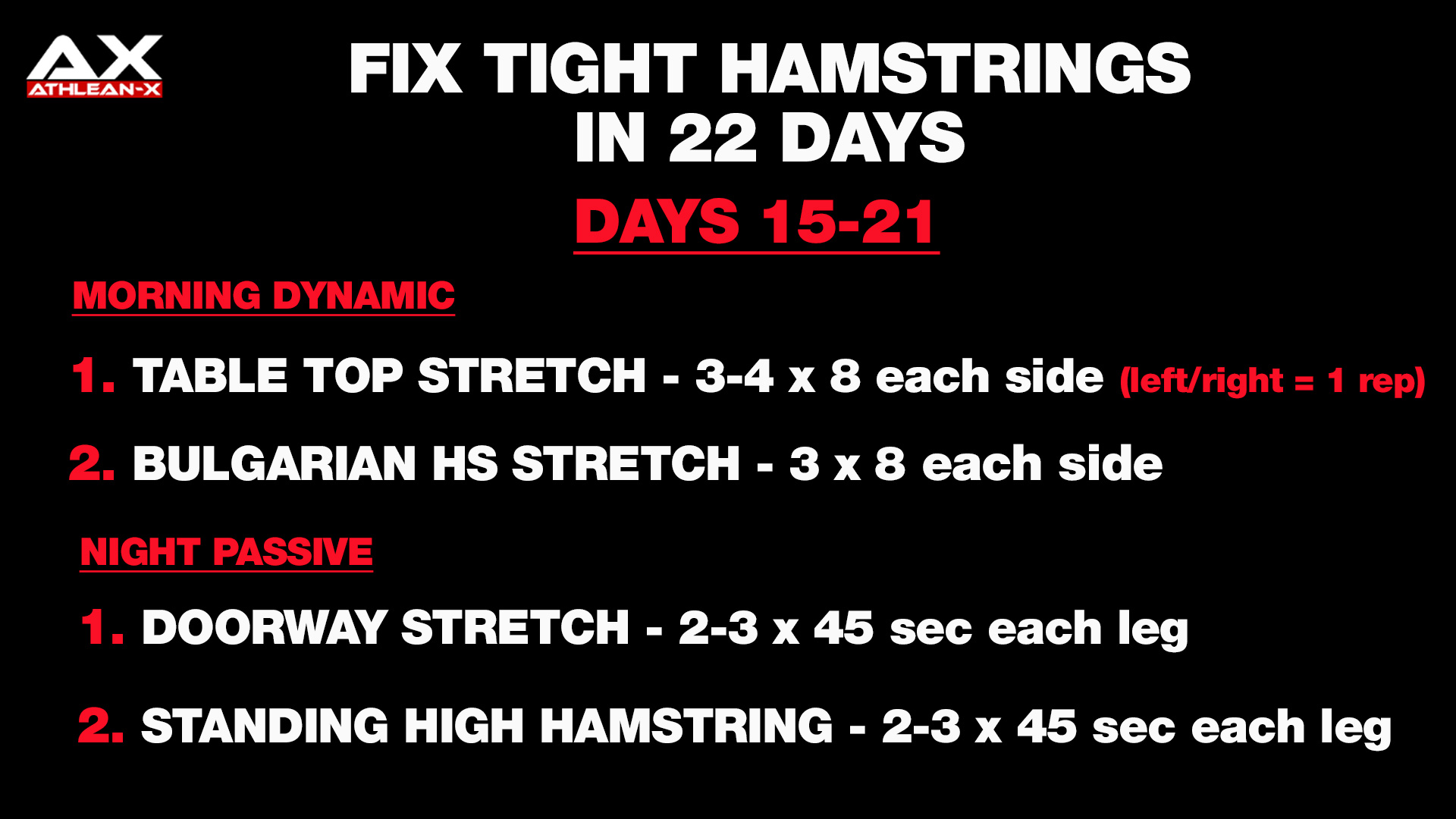 Do two to three sets of 45 seconds each. If you do these right, you'll feel that deep stretch up under your cheek.
Here's a recap of Block Three:
When you've finished Day 21, go back and test yourself again, and you should find that your range of motion has increased. And I'll bet your tape mark will be higher up that wall!
Here's what the entire 22-day Tight Hamstring plan looks like day-by-day, including the re-test at the end.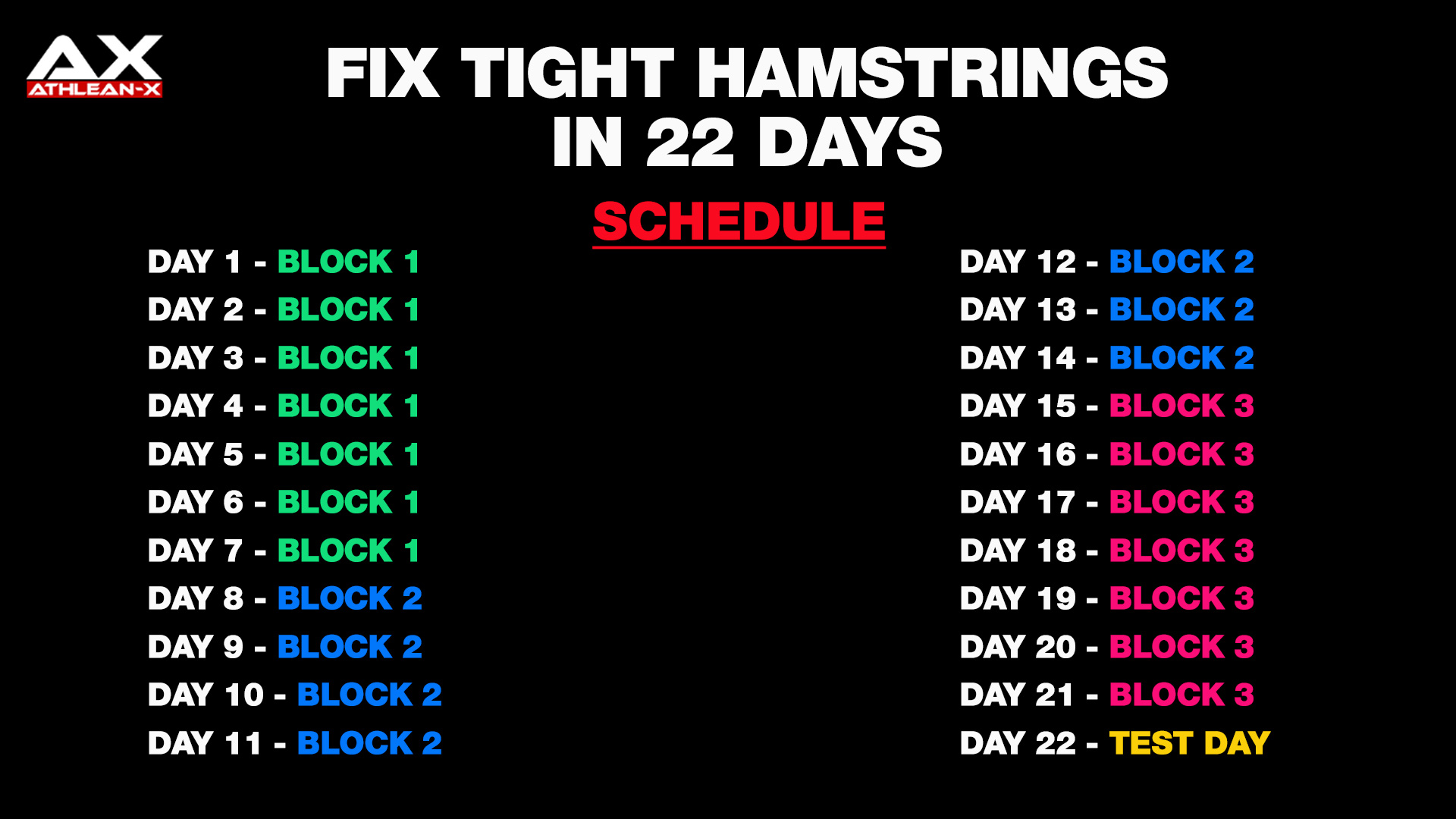 People sometimes give up on stretching far too soon because they don't see or feel the benefits, or they're just not doing it right. If you follow this program as described, I guarantee you that your hamstrings will feel looser at the end.
Remember, someday is NOT a day of the week. Start now. Your fitness routine should include a regular stretching routine.
If you're looking for the best training programs to help you become as strong and athletic as you've always wanted to be, check out our ATHLEAN-X programs.
Program Selector ==> See which program best fits your goals
AX1 ==> Train at Home With Dumbbells and Minimal Equipment
XERO ==> Train at Home With No Equipment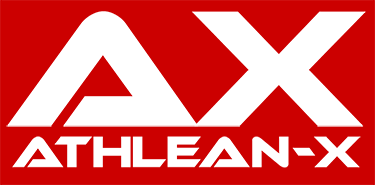 THE HIGHLIGHT REEL:
Stretches For Tight Hamstrings
Chronic hamstring tightness is a common problem that can be fixed with the right regular stretching program.
The hamstrings can be tight because they're shortened, or due to anterior pelvic tilt. Be sure to pay attention to the caveat regarding anterior pelvic tilt pointed out in the beginning of this video. Use the test I've provided to determine how tight your hamstrings are currently.
This hamstring stretch routine addresses both positions of the knee, straight and flexed.
There are three blocks of stretching exercises being performed over 21 days with a re-test at the end to objectively measure your progress.
Each seven-day block separates active and passive stretches into morning and evening sessions, so that you get the most out of each session.
Active stretches are those done with movement, like the Wall Hinge or Table Top Stretch. Static stretches involve maintaining tension without movement, like the Doorway Stretch or Resistance Band-Towel Hamstring Stretch.
Active stretches should be done with gentle movement. Hold static stretches for 45 seconds each. Neither should cause pain.
Follow the entire program to completion in order to see its benefits.
Watch the YouTube version of this article
Popular & Trending