Estimated
Est.
Read Time: 3 minutes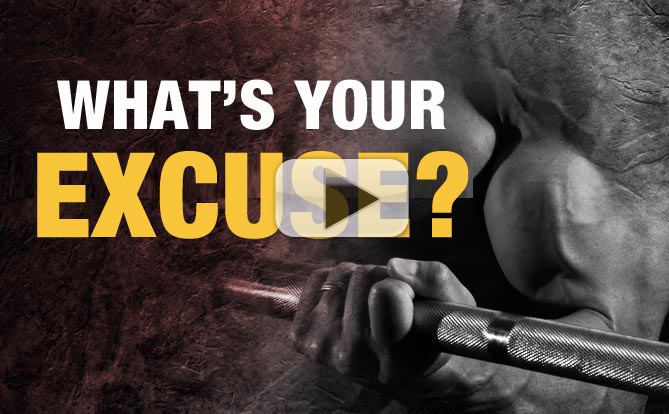 If your week has been anything like mine, then I'm sure you've been busy running around to family dinners, celebrations with friends…and…trying to make sure you still have time for your workouts!
Far too often, at this time of the year the EXCUSES become way too easy to give into and you just wind up skipping the workout! THAT WOULD BE A MISTAKE
See how I learned to eliminate the excuses at a VERY young age!
Here are some of them. See if they sound familiar.
– Limited Equipment
– Limited Space
– Can't do Pullups
– No Motivation
– Too Skinny / Too Fat
– Not Enough Money
– Not Enough Time
– INSERT YOUR OWN _______
And then promise me you'll do just one thing for me… You'll THROW THEM ALL AWAY! Just in time for New Year! The Video "X"cuse Buster is Here.
Look, if any of theses apply to you I am definitely NOT picking on you. I can't. Because this was ME before I decided that I could control every decision I made and fully determine whether getting in shape REALLY meant to me what I was telling myself it did.
And the best part is…You're no different than me.  I breathe oxygen, bleed red, and even have some days that it's tough to get myself up for my workout. But I show up, and then once I'm there I figure, might as well give it everything I have now that I'm here.
============= So answer me this =============
Will you "show up" and start becoming what you have said you have wanted to become (for maybe too long now) or will you rely on any of the "excuses" above and put off your change again?
I hope the answer is…"I'm showing up".  Cause if you do, I'll be here to coach you every step of the way.
Join me on "TEAM ATHLEAN"
STAY STRONG…
Jeff
P.S. When you watch this video you'll see exactly why I made my ATHLEAN-X program one that you can literally do anywhere with any equipment in 20-40 minutes per workout!! It truly is one of the only programs that eliminates ALL of the roadblocks and excuses that hold most people back with the other programs they're using. Get Started Today!
Watch the YouTube version of this article
Popular & Trending