Estimated Read Time: 1 minute
I'm going to ask you a super important question. Maybe the most important question you can be asked when it comes to seeing results from your training. Ready?
Are you doing enough VOLUME in your workouts??
This video is going to tell you like it is. No sugar coating, no b.s. BUT, it's going to be one of the most helpful that you've watched this year. This is a video that is long overdue and should restore some extra time back in your life (outside the gym) at the same time. I think you're going to find this helpful.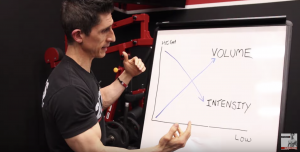 STAY STRONG…
JEFF
P.S.  The next time you hear someone say "volume" is the key to muscle growth, please do me a favor and instead of slapping them…just kindly show this to them 🙂
The Truth about "Volume" in Your Workouts!
P.P.S.  If you're looking for a training plan that believes that you can either train hard or you can train long but you cannot do both (and therefore gets you results faster!) then click the link and pick the plan best suited to your goals…
Watch the YouTube version of this article