Estimated Read Time: 14 minutes
THE PROBLEM WITH TYPICAL BACK WORKOUTS
The back is very unique when compared to other muscles since it is NOT JUST ONE MUSCLE! So why do we think a few sets of pullups or rows is enough to get the job done? It's not.
There are two main problems with typical lat focused training. One is that it trains simply a fraction of the back muscles and doesn't tap into the complete strength of the back. The other is that many people choose repetitive exercises that work the back in the same plane.
For instance, if you look at two common lat-focused back exercises, the pullup and lat pulldown, they are two major vertical pulling exercises. It's not necessarily bad to perform them in the same back workout, but you're overlooking the importance of horizontal pulling if these are the only back exercises you're doing.
The Perfect Back Workout should consist of exercises for not just the lats and traps, but also fill in the gaps of what is lacking in the most popular back exercises to hit other important muscles of the back.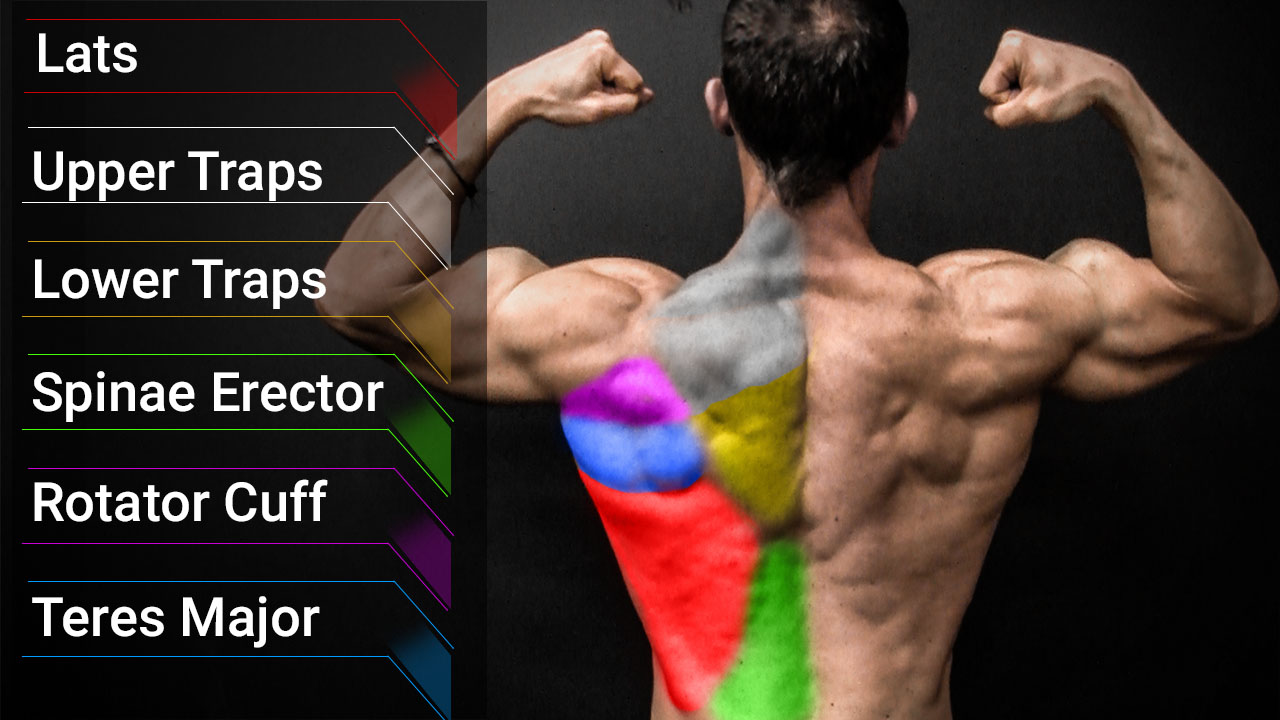 A BRIEF SUMMARY OF MUSCLE GROUPS OF THE BACK
The Perfect Back Workout needs to hit 5 important muscle groups in the back. I've identified each of these with the Muscle Markers to help show how each of these muscle groups functions.
THE LATS
LOW BACK / spinae erector
STRUCTURING THE PERFECT BACK WORKOUT
When I put this complete back workout, my goal was to hit the back through its entire range of motion AND hit every function of the this multi muscle group posterior chain as well. There are a variety of techniques that I use to achieve this, and we'll take a brief look at each of them here.
the warm up
Before we get started with our big compound movements we need to make sure that we're adequately warming up.
Since the Deadlift is the first compound movement we'll be working with, we're going to perform a few submaximal light warmup sets of it. We also have an opportunity to introduce some Straight Arm Pushdowns with each warmup set of Deadlifts.
This helps to ingrain one of the most important movement patterns you will need to not only perform the Deadlift but all next level back exercises: straight arm scapular strength work.  This reinforces the stability of your shoulder blades, to keep that upper body tightness when you do the Deadlift.
1a. and 1b. COMPOUND LIFTS
We're going to kick this workout off with a compound lift that's going to hit a lot of the areas of the back at once: the Deadlift.
The traps, lats, and lower back all get a heavy dose of overload on this powerhouse of a back exercise.  If you load it heavy enough and refuse to sacrifice your form, this can be an enormous benefit to your overall back development.
For the first superset we're going to pair the Deadlift with a Weighted Chin Up.
The Weighted Chin Up is another tremendous compound exercise that can build a lot of back strength, size and overall gains. An additional reason to pair these two movements together is that there are some compressive effects on the spine when doing the Deadlift.
When we pair the Deadlift with the Weighted Chin Up, the loaded hanging allows us to get a decompressive effect.
EXERCISE NOTES: Do one warmup set of Deadlifts followed by one set of Straight Arm Pushdowns before the beginning of each regular Deadlift set.  For the first regular Deadlift set use your 8RM and pair it with a Weighted Chin Up, using your 4RM weight for a post-Deadlift decompressive effect. For the second set of the Deadlift go a little heavier to your 6RM and cut the weight in half for your second set of Weighted Chin Ups so you can complete 8 -10 reps. Rest 2 minutes after each of the first two sets of the Deadlift.
2a. and 2b. SWITCHING GRIPS
It's important not to get locked in on only one grip in hanging exercises, but instead mix both Chin Ups and Pullups along with the Deadlift.
If you neglect to switch grips, you lose the chance to work other areas of the back such as the teres major (which in and of itself occupies a large amount of mass above the lats) and therefore lose the gains you will see from your workout. So, we'll also pair the Deadlift with a Wide Grip Pullup in the second superset to hit those different sets of muscles.
EXERCISE NOTES: The third and fourth set of Deadlifts are our heaviest. Use your 4RM and pair it with Wide Grip Pullups using straight bodyweight to hit the terres major a little more than it will the lats. Rest time is 30 seconds after your third and fourth sets of the Deadlift.
3. EXPLOSIVITY
My favorite exercise for incorporating explosivity is the Barbell Dead Row.
It builds off the same movement pattern used for the deadlift, but by allowing you to train explosively, it primes your performance on the Deadlift because it shares similar biomechanics. Perform this powerful back exercise as a follow up to the deadlift and you will find that even a heavier weight seems lighter and more able to be accelerated.
When you train like an athlete you always want to speed up what you slow down with your heavier weight training.
EXERCISE NOTES: In the Barbell Dead Row, we'll stop at the knees and then continue to drive up and perform the rest of the row. Here the goal is trying to see how quickly we can explode this off the ground.  We're not going to failure on this one.  Instead, choose about a 10 to 12RM, and perform 8 to 10 reps.
4. THE LATS
Dedicating some additional focused tension towards the lats allows you to develop that mind muscle connection that is important for maximizing hypertrophy of the back. 
I'll give you two exercises to choose from, but you'll just do one of them.  Focus on really squeezing each rep and taking the lats through their full range of motion for optimum effect.
OPTION 1: The Alternating High Cable Row done in an alternating fashion is perfect for taking the lats through their entire range of motion. I'm able to get my arm out in front of my body, getting my lat out in full stretch. It still gets it all the way back behind my body, into extension, but also adducted tightly to my side, hitting all the major functions of the lats. You even get a little bit of rotation on the back to really get into more extension.
OPTION 2: The Rocking Pulldown is probably the best way to do a pulldown. Instead of being limited in a frontal plane, the rocking motion helps us get more adduction down closer to our side and more extension back behind our body, giving us a better overall lat contraction.
All you have to do is give this a try and I promise you, you're going to see the results. You won't have to sacrifice the weight you're using to do this, but you'll get a much better contraction. You can use the same type of weights, maybe dropping down just a plate or two. This focused tension gives you more of an aesthetic benefit on top of the athletic performance and the strength you're already building in the workout.
5. the SMALLER MUSCLES
Filling in the gaps by hitting the smaller muscles with corrective exercises helps us fortify the entire back, because we're only as strong as our weakest link.
The Hyper Y W Combo will allow you to hit both the lumbar erectors and the rotator cuff in a single move.  This exercise can be done in a glute-ham raise, or you could do this on a physio ball like I'm showing you.
You will not need to use heavy weights to do this; light weights will light you up in exactly the way you need for best effect. The Y portion activates the lower traps and trains them how to fire properly and in the right sequence. The action of the W is to create external rotation at the shoulder to incorporate the muscles of the rotator cuff.
If you're not doing rotator cuff at least two to three times a week you're not doing it enough.
EXERCISE NOTES: Alternate between Ys and Ws every rep and complete 14 to 20 reps.
6. the UPPER TRAPS
We're going to finish this workout with the area you probably focus on more often which is the upper trap.
We're going to hit it with a Standard Barbell Shrug. You can take a slightly wider grip that puts the angle of the arm more in alignment with the orientation of the fibers of the upper traps, or you can go narrower if it's more comfortable for you.
EXERCISE NOTES: We're doing the Standard Barbell Shrug as a finisher in a ladder format. First, we're going to work our way up from 1 to 10. For the sickos out there, you've got the option to work your way back down from 10 to 1. First you'll perform a single rep, and then you perform a one second contraction at the top of the shrug. Then you'll perform 2 reps and perform a 2 second shrug at the top and hold. Perform 3 reps, and then a 3 second shrug, and hold and continue on up the ladder. If, at any time, you can't perform the hold, or you can't perform the rest of your reps, put the bar down and rest momentarily. Pick it back up again and work your way through. It's a killer, but it's going to give you just enough work and volume in addition to what you've already done here with the deadlifts to finish off the traps the right way.
THE WORKOUT
So, here is the entire PERFECT BACK WORKOUT step by step, all sets, all reps for you guys to follow. I promise you, you're going to see and feel the difference.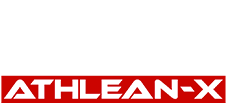 PERFECT BACK WORKOUT
*IMPORTANT NOTE: PERFORM ONE SET OF STRAIGHT ARM PUSHDOWNS FOR EACH WARMUP SET OF DEADLIFTS
1A. DEADLIFTS* – 2 SETS (8RM, 6RM)   (REST 2 MIN AFTER EACH SET OF DEADLIFTS)
1B. WEIGHTED CHIN UPS – 2 SETS (8RM, 4RM)
2A. DEADLIFTS – 2 SETS (4RM, 4RM)   (REST 30 SEC AFTER EACH SET OF DEADLIFTS)
2B. WIDE GRIP PULLUPS – 2 SETS (BODYWEIGHT TO FAILURE) 
3. BARBELL DEAD ROWS – 2-3 SETS X 10-12RM **(8-10 EXPLOSIVE REPS)
4. FOCUSED TENSION – 2-3 SETS (CHOOSE ONE)
     A. ALTERNATING HIGH PULLEY ROW (10-12RM TO FAILURE)
     B. ROCKING PULLDOWNS (10-12RM TO FAILURE)
5. HYPER Y W COMBO – 2 SETS X 14-20 (ALTERNATE Y'S AND W'S ON EVERY REP)
6. BARBELL SHRUG LADDER FINISHER
When you put your back workout together in the format I'm suggesting here, not only do you now hit the back through its full range of motion, but you hit every function of the this multi muscle group posterior chain as well.  The supersets and ladders allow for an intensification of the workout to ensure that you are creating enough overload to spark growth in these muscles.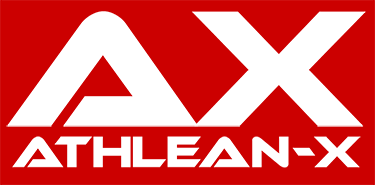 THE HIGHLIGHT REEL:
THE PERFECT BACK WORKOUT
The back is not just one muscle group! There are 5 main areas that the Perfect Back Workout must focus on: lats, upper and lower traps, low back, rotator cuff and teres major.
There are two main problems with typical lat focused training: it only works a fraction of the back muscles and many people choose repetitive exercises that only work in one plane.
When we structure the Perfect Back Workout, we want to be sure to work ALL the back muscles and incorporate a variety of training elements: compound lifts, switching grips to hit different muscles, explosivity plus targeted work in the lats, the smaller muscles and the traps.
This Perfect Back Workout is just one example of how to apply science to your workouts.  If you want to train like an athlete you're going to want to put science back in every workout you do.  You can do that with the ATHLEAN-X Training Program and get started right away on building a ripped, muscular, athletic body.