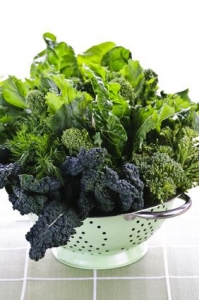 Are you getting your green leafies in on a daily basis?  We all know that they're packed with vitamins, but these greens are true superfoods both for health and weight loss! They're a great source of vitamins A, C and K, are full of healthy antioxidants, and also provide iron and calcium in the diet.  Dark leafy greens are an excellent source of fiber and have close to no calories, so they'll help fill you up at meals and snacks.  The fiber in the greens also helps slow down and aid digestion.
The US Department of Agriculture recommends three cups of dark leafy greens per week, but I'd recommend you try to get at least 2 servings per day.  Eating your greens along with sources of healthy unsaturated fats such as olive oil, nuts, salad dressings, canola oil and fish greatly improves the absorption of the vitamins and minerals present in the greens.  If you can, splurge for organic greens as industrially grown greens are often sprayed with high amounts of pesticides which are applied directly to the leaves - the part of the plant we eat.
Let's have a quick review of the veggies included in the green leafy category.  Greens like mustard greens, collard greens, chard, arugula and kale all have a bit of an earthy, bitter flavor but it's worth trying to sneak them into your food.  Spinach is a more palatable green and its flavor is mild enough to eat it raw. Broccoli is my favorite dark leafy green - it's tasty and there are lots of ways to dress it up!  Below are 15 easy ways to sneak these dark leafy greens into your diet each day.  It IS easy being green!