Estimated Read Time: 1 minute
When you look in the mirror, do you see a sculpted muscular chest that you always wished you had.
OR
Do you see a flabby, soft, or small pair of pecs that need lots of work? Don't worry, I've got you covered.
Weak pecs are very common actually! The most important thing is, identifying that fact and then fixing them one area at a time.
See how many chest red flags you have:
– Red Flag #1
– Red Flag #2
– Red Flag #3
– Red Flag #4
– Red Flag #5
Here's the problem; even if you're bench pressing regularly or doing lots of pushups, your chest could still be super weak. I explain why in the video.
AND…
Give you 5 unique ways to test and fix your chest today!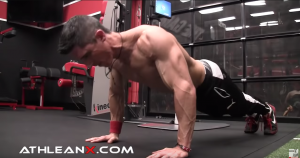 STAY STRONG…
JEFF
P.S.  I've said it so many times, it's not good enough just to train for "looks". You need to train for function too! I can show you how to get the best of both worlds. I've already done that for you step by step here…
Overlook nothing with the complete A-X Training System here
P.P.S.  Share these 5 red flags with someone you train with and see how many you have in common. Unfortunately, you will likely both be surprised!  25 Pushups?!? You'll be shocked…
Watch the YouTube version of this article