Estimated Read Time: 1 minute
Have you heard the news? Quite a few videos have said that the bench press is a WASTED exercise incapable of maximally building up your chest! Okay…
So with that out of the way, would you like to hear the truth?
It comes down to two things:
1.  Understanding Anatomy
AND
2.  Understanding Overload
I'll show you how both elements work together to make this movement the staple of your chest gains and strength potential.
I'm breaking out the "muscle markers" in this video to show you how it all works. I promise, you're going to have an all new appreciation for this exercise and, even better, know the best way to train with the exercise for max gains.
Share it if it helps!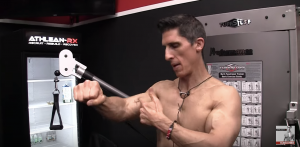 STAY STRONG…
JEFF
P.S.  If you're looking for a complete program that puts the science back in strength and gives you all the workouts, exercises and meal plans to get you in the best shape of your life, click the link and find out which program you should perform…
Find the program tailor made to you and your goals here
P.P.S.  If this video strikes a chord with you and you think it will help someone else you know or train with, please do me a favor and share it with them.  It's always GREATLY appreciated!
Watch the YouTube version of this article