Estimated
Est.
Read Time: 2 minutes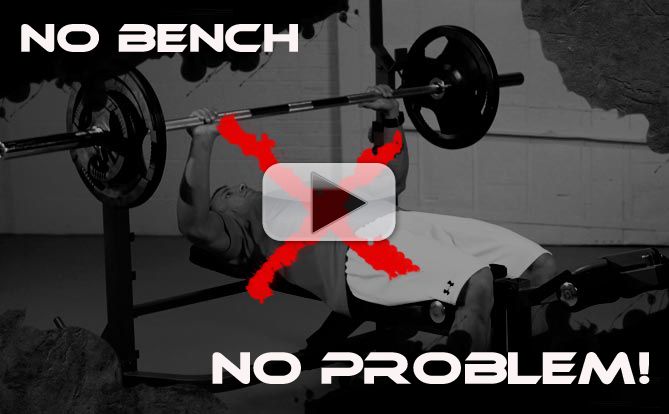 "How much ya bench?"
The classic "meathead" question of all time.
Well, it seems these days with all the guys that prefer to work out at home instead of a gym, the question should be….
Do you even HAVE a bench?
Well, even if that answer is no, it doesn't mean that you can't do bench presses and reap the benefits of this chest building classic with ATHLEAN-X!
What's great about this video is that it doesn't matter if you don't even have a bar!
This will work just as well with dumbbells.
I feel a good coach can come up with a solution for any obstacle instead of just saying "Yep…that won't work"!
The "lack of space" and "lack of equipment" problems are common, there's no doubt about that.
BUT….
There ARE solutions. And as YOUR coach I made sure I didn't overlook a single thing in my ATHLEAN-X TRAINING SYSTEM, which is why I stand by my word that ANYONE in ANY situation can do this!
(We've even got tons of soldiers stationed in less than ideal barracks doing the program and getting outstanding results!)
With me you just need one thing.
Desire.
Will you be "next" to join "TEAM ATHLEAN"?
STAY STRONG…
Jeff
P.S. Whatever is not an obstacle is an excuse. With ATHLEAN-X, I've eliminated ALL of the obstacles!!
No gym membership
Not enough equipment
Not enough time
Not enough space
Too skinny
Too fat
Too old
Throw them all away!
Watch the YouTube version of this article
Popular & Trending