Estimated Read Time: 1 minute
This is one you are NOT going to want to miss! Especially if you do any of the following exercises:
– Bench Press
– Incline Bench Press
– Dips
Over 1.3 Million People on IG saw this and are starting to use this powerful complimentary exercise to the bench press to take their gains to a new level and now you can too! I think you're going to find this one to be an awesome addition to your pressing arsenal. I can't wait for you to try it out!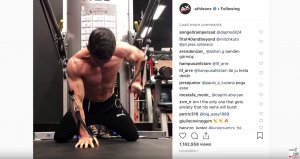 STAY STRONG…
JEFF
P.S.  Once you've tried this for yourself and convinced yourself how well it works, I'd love to show you how effective a complete program could be that gets you training like an athlete.  Choose the one that best fits your goals here…
Click here to help me match up a program with your specific goals
P.P.S.  If you know anyone else that benches or dips regularly (which you most likely do!), do me a favor and share this with them. It will help you both immensely!
Do This Exercise IMMEDIATELY After Bench Press (Better Gains)
Watch the YouTube version of this article